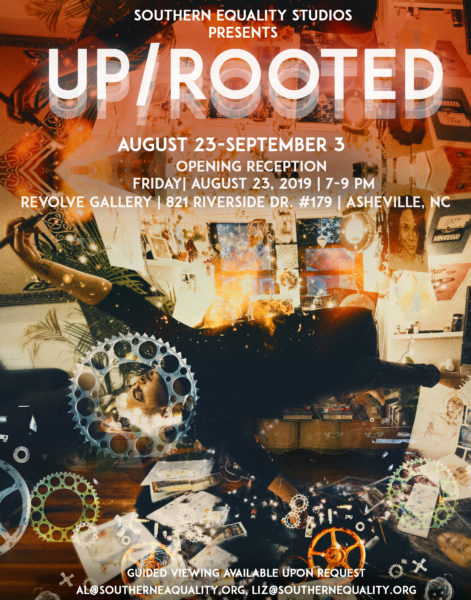 This Friday, August 23, local artists Liz Williams and Al Murray will host an opening reception for the exhibition of their collaborative multimedia project Up/Rooted. The exhibition will be on display at REVOLVE in Asheville from August 23 until September 3.
Up/Rooted is the second annual iteration of Southern Equality Studios (SES), a special project of the Campaign for Southern Equality, an Asheville-based non-profit that promotes full LGBTQ equality across the South. The exhibition marks the end of a 4-month artists' residency for Murray and Williams and continues CSE's efforts to explore how the arts can be a catalyst and force in achieving LGBTQ equality and social change.
Ahead of the art exhibition opening, Liz and Al joined K.P. Whaley of Asheville FM for a discussion about art as a force for social change, Up/Rooted, and how folks can get involved. Click here to listen to the full interview on AFM News Hour (scroll to the 37:10-minute mark) and read a transcript of the interview below.
AL MURRAY: The Campaign for Southern Equality always opens up a space for people on staff to propose ideas for new projects. A couple of years back, someone on staff proposed the idea for Southern Equality Studios, which would highlight artists across the South. The intention there was to both recognize and utilize the fact that artists have always been a catalyst and force for change, in all kinds of social movements across the South and across the country. Especially in the South, where visibility and understanding the humanity of LGBTQ folks is of the utmost importance, the idea that we could utilize artists and art to advance our efforts for LGBTQ lived and legal equality in the South was really compelling. So last year we started with a couple of pop-up shows, sort of miniature artists residencies, and then this year that has expanded. So we're still really focused on the concept that artists are and can be a force for change, uniquely and beautifully and creatively, and so we decided to pull in the work of multiple artists in addition to the work of artists in residence.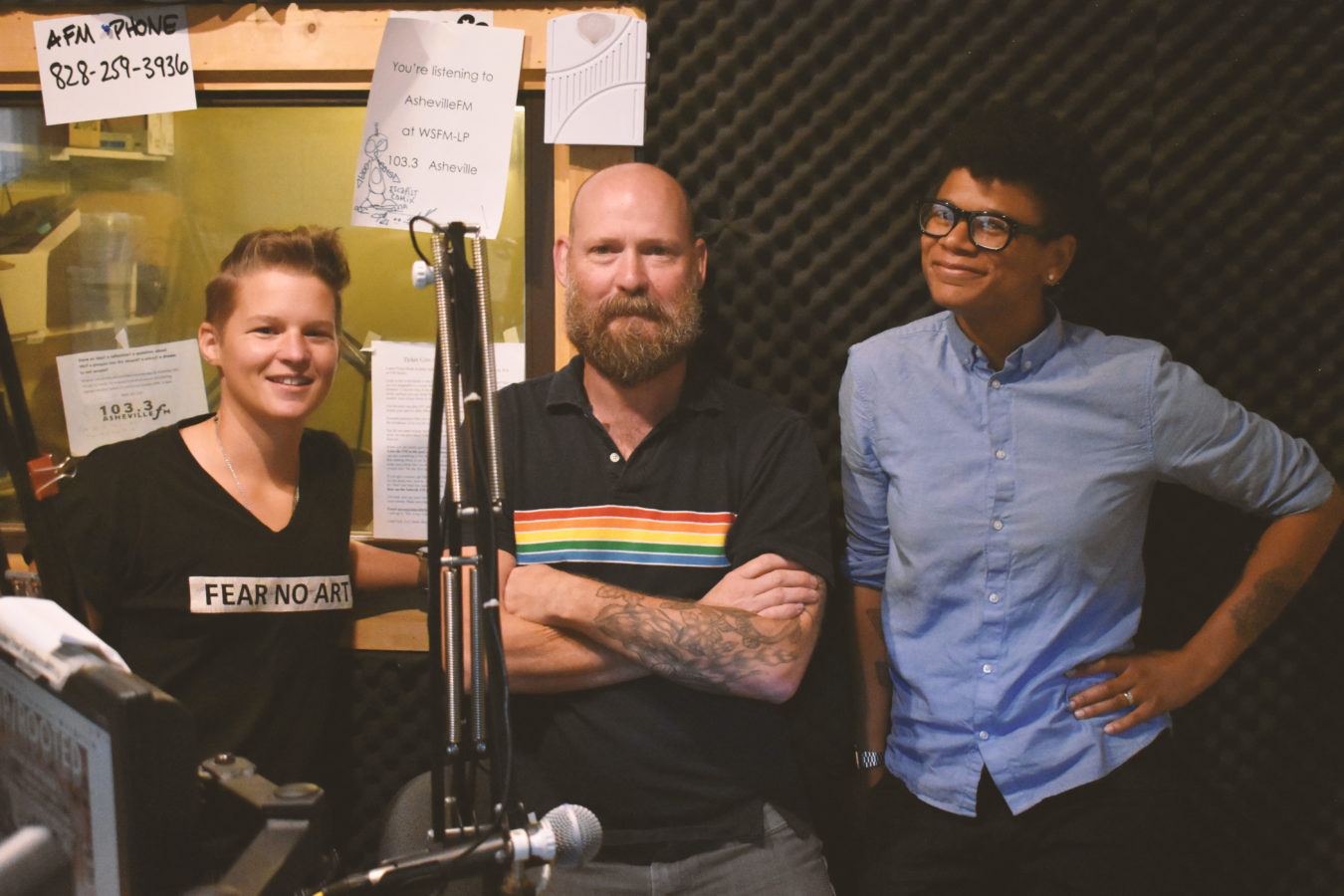 K.P. Whaley, Asheville FM: So you started the program in 2018, and what kind of things did you do then, and what are you doing this year?
AL: Last year, we had an isolated event that happened at a very specific time. A handful of artists were invited to share work that they were working on or that they would like to work more on, and the Center for Craft offered up the space for us to do that, on a series of days and times. I think they were eight hour residencies. And then that was shared with the public through a meet-and-greet event. Then with that, we found that it's still true that LGBTQ artists in the South are largely invisible on a world stage, and even in organizing this, we found that we didn't know each other very well. That's why this year we wanted to expand this to a full summer. Liz and I, as artists in residence, have been working since May to organize this, then officially started in the Studio at the beginning of the summer, with the hope that we could have a community event and an exhibition – which is Up/Rooted, on August 23.
KP: Liz, tell us about your work and what the residency has meant for you.
LIZ WILLIAMS: I've been really excited to get out of the isolation of mostly photographing my cats or myself, or using Photoshop to create entirely new worlds. I've been branching out and stepping out of my introverted zone to meet other artists in the area, which is so important because I don't want us to disappear and be silenced, so it was really empowering to meet other queer artists, especially other black and brown artists. What I would do is meet up in their safe space – it could be in their house, in their studio, outside in nature – and I would produce this portrait where they look as though they are levitating in that space, because I want people to feel empowered the spaces where they are safest, especially if they are a creator who is also queer. So through photography, a little Photoshop, a little magic, and how welcoming these new friends and artists are, I was able to create these portraits.
KP: For you in meeting other queer artists, how does this exhibition, this work, empower each of y'all?
LIZ: Through meeting these artists through the portraits, I was able to meet them to get to know them a bit, and they were able to articulate their inner thoughts outward. For instance, I was asking them about what they would consider their Southern roots, as well as their queer roots or their artist roots. And it was cool to see people start to formulate how to express that vocally and verbally. It was cool to see commonalities among us. Through this, it's been great because I've been meeting up with them outside of this studio work and I've been building stronger bonds with people who I didn't know before June or July. I think there's strength in numbers, and I'm glad to be adding strength to the queer artists numbers.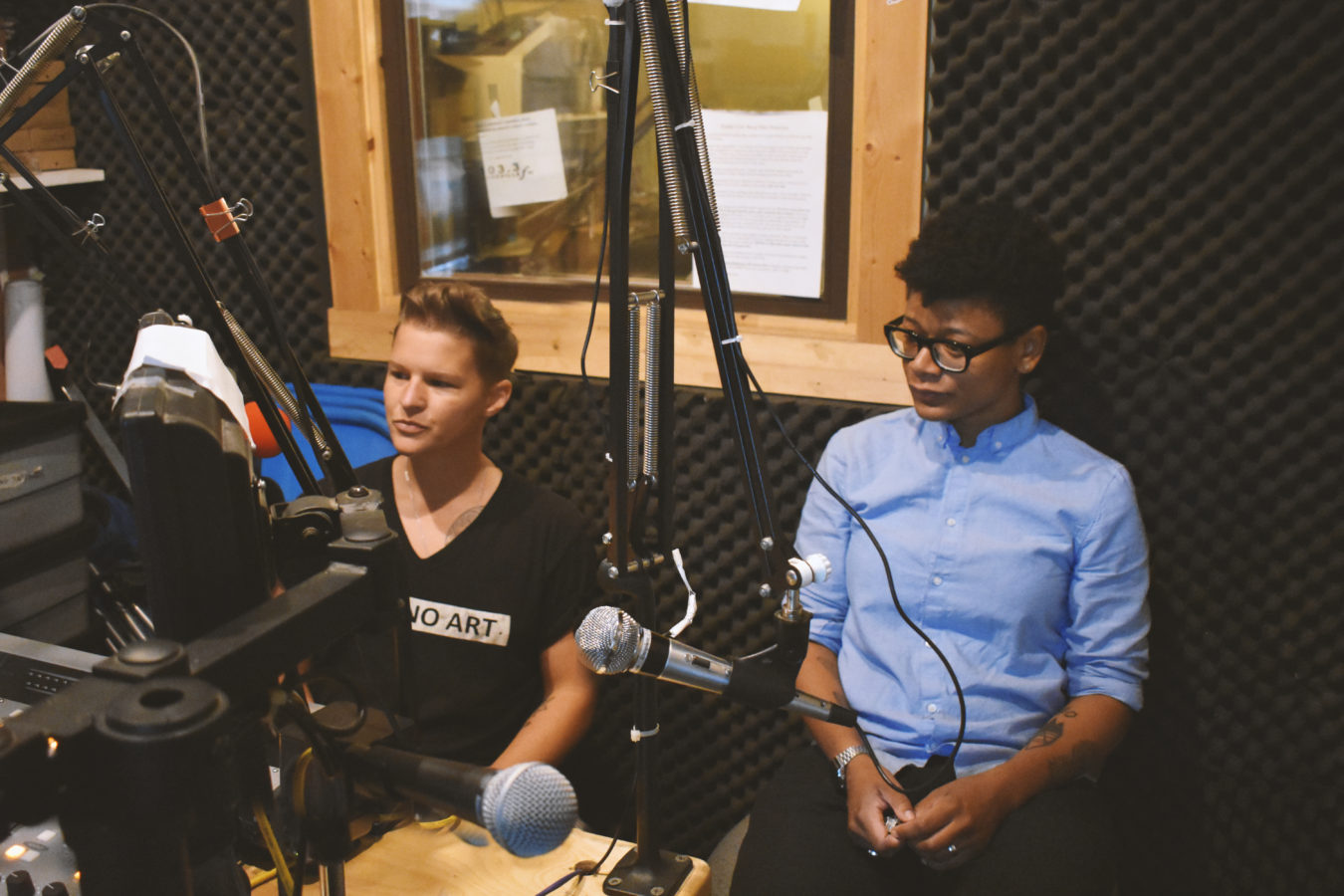 KP: Is being Southern and queer especially challenging for a queer artist?
AL: It's one of those statistics that we throw around a lot – but about a third of LGBTQ folks in the country live in the South. And we also face some of the greatest disparities in access to health care, housing, and facing some of the most extreme forms of discrimination, whether that's cultural or legal. And so that very real experience means that living creatively in the South is not just the stuff that artists do; it's something all queer people in the South do.
In addition to these disparities, we also live with a fervor and a beauty as queer Southerners that seeks to rectify those tensions all the time. That's what Up/Rooted is about, as well as the larger project of Southern Equality Studios. Liz's portraits are about lifting folks up and amplifying voices in these spaces and also recognizing that we may not always love our roots – we may not always have warm, happy feelings about them, and they may be spaces that we are growing in spite of. But the sculptures that I have been putting together are reflective of my own roots and how I use the materials from my childhood and the relationships from my childhood to inform the really positive experiences I have now. I incorporate some of the objects from the artists Liz has photographed so that we can be in a space that's collective and liberating together and still reflective of where we've come from.
LIZ: With the portraits I also want to break through these tropes that if you're an artist, you might be struggling and starving, and if you're queer you're constantly oppressed and that's all you think about. I want to break through that stereotype by showing folks being lifted up despite or because of their roots growing up. Hopefully when people come to the show, they'll see a celebration as well as reverence, whether through the photo series or the cool, kinetic sculptures that Al has made.
KP: What are the details of the event?
AL: We had had a panel discussion with the artists, and that has inspired continued convenings at REVOLVE, but what is next is the August 23rd show that will feature the works that Liz and I have put together, in addition to work from the artist that we've talked with. With that, we'll be doing a bit of a talk about what the work looks like, why it looks the way it looks. And that goes from August 23 through September 3. The opening is 7-9 at REVOLVE, and we're also offering the opportunity for folks to reach out to us for private showings of that.
KP: Anything else to mention before we let you go?
LIZ: Nothing that comes to mind, but I would just love to see new and excited faces at the show, and after the show I'd love to do private tours of the pieces, to get to know people more.