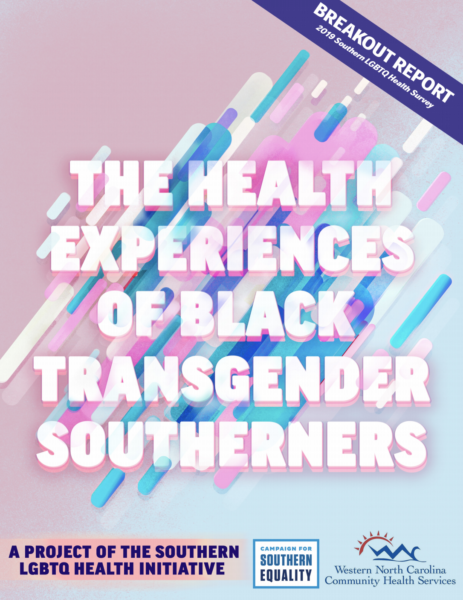 Today the Campaign for Southern Equality (CSE) and Western North Carolina Community Health Services (WNCCHS) released a new report about the health experiences of Black Transgender Southerners, as a supplement to The Report of the 2019 Southern LGBTQ Health Survey. The publication of the report coincides with Transgender Awareness week, a national effort to increase transgender visibility and rights. 
The report, The Health Experiences of Black Transgender Southerners, includes responses from 131 Black transgender Southerners, a cohort from among the more than 5,600 LGBTQ Southerners who took the 2019 Southern LGBTQ Health Survey, which was the the largest sample ever of LGBTQ Southerners focused on health and healthcare. 
Key findings of the report – which you can read here – include:
Less than half of Black trans respondents said that they

always

or

often

had positive experiences with physical (49.7%) or mental health (42.3%) care providers, which is significantly worse than the experiences of the overall sample (of whom 64.3% and 47.0% said they

always

or

often

have positive experiences with physical health and mental health providers, respectively). 

Compared to the overall survey sample, Black trans respondents reported significantly higher rates of depression (68.7%, or 14 points higher than overall sample), self-harming behaviors (26.7%, more than 6 points higher than the overall sample), and suicidal ideation (38.2%, 12 points higher than the overall sample).

In our survey, 27.5% of Black trans respondents reported living with HIV, compared to 5% of our overall sample. Black trans respondents reported more knowledge and comfort related to HIV prevention and testing than our overall survey sample and were tested for HIV more frequently, with 67.1% getting tested at least yearly compared to 38.9% of the overall sample.
Ivy Hill, Community Health Program Director of Campaign for Southern Equality, said:
"As a transgender leader in the South, I know how strong and resilient transgender people are – but to read about respondents' struggles with mental health challenges, depression and anxiety, and getting access to quality, affirming care breaks my heart. We've long known that Black transgender people in the South are some of the most vulnerable folks in our community, and this report details new data that provides additional insights. Everyone should be able to access the care they need, and we must work to strategically to implement both anti-racist and trans-affirming health care practices. 
"This week especially, as we acknowledge Transgender Day of Remembrance and Transgender Day of Resilience, we honor so many courageous transgender people who are no longer with us. Each year, dozens of transgender people, overwhelmingly Black transgender women, are murdered, and it's vital that we say their names, honor their lives, and demand justice. But as we do so, let us also fight to ensure dignity, justice, and equality for Black transgender Southerners who are living. I hope this report is a call to action for institutions, organizations, and individuals to invest in improving their systems and making tangible change to support Black transgender people in the South." 
Led by a team of LGBTQ Southerners, the Southern LGBTQ Health Survey was rooted in community-based research methods, including working with a team of Survey Ambassadors who spanned the region and who included a minister, a nightclub promoter, and grassroots leaders. The project is part of the Southern LGBTQ Health Initiative, a collaboration of CSE and WNCCHS to improve access to LGBTQ-friendly primary care, HIV care and support services across the South. In addition to community-based research, this initiative involves training primary care providers in affirming health care practices and providing direct funding to grassroots groups leading innovations in access to LGBTQ health care.
Access the Community Spotlight supplement about Black Trans Southerners. And visit www.southernequality.org/Survey to view the full Southern LGBTQ Health Survey Report and executive summary in English and Spanish.