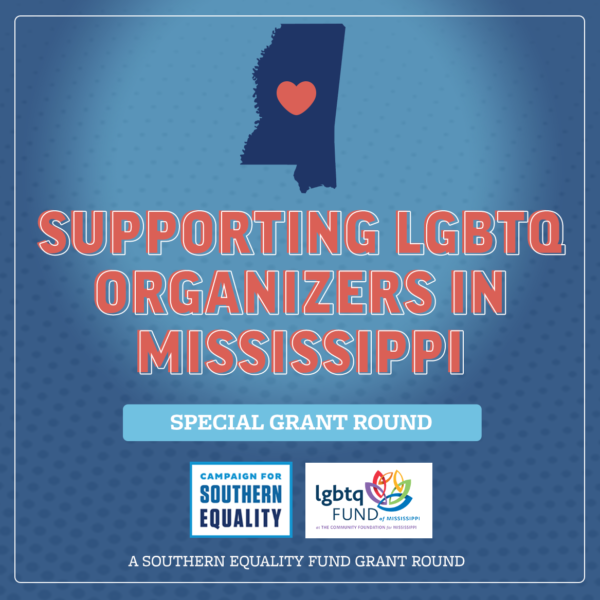 NOTE: This grant round closed in November 2022. Thank you for your interest in the Southern Equality Fund. 
Today the Campaign for Southern Equality is honored to announce a new grassroots grant round in partnership with the LGBTQ Fund of Mississippi. This grant round, totaling $20,000, will be disbursed to grassroots projects and organizations geared toward supporting LGBTQ people who live in Mississippi. 
Organizations and groups in Mississippi are now invited to apply for grants of up to $2,500. Projects can be focused on anything that improves the lives of LGBTQ people in Mississippi,  including direct action, resilience and healing efforts, direct services, artistic endeavors, and more.
Click here to learn more – and please spread the word to folks who may be eligible doing great work in Mississippi.
Allison Scott, Director of Impact & Innovation at the Campaign for Southern Equality, said today:
"Mississippi organizers have been doing heroic work for LGBTQ Southerners for years – often on small budgets and without the resources that some larger states have access to. The LGBTQ Fund of Mississippi, the first LGBTQ-focused grantmaking fund in the state, has paved a path for sustained funding for LGBTQ Mississippians – and this special grant round collaboration is the latest step in resourcing grassroots groups making an impact in their community. We're excited to read applications for this Southern Equality Fund round."