From the early days of the COVID-19 pandemic, I've been blown away by some of the nimble, strategic, and above all, compassionate organizing that's happened all across the South. Organizations, many working on shoestring budgets, have shown themselves to be sturdy pillars of their communities during a time when so many people are hurting.
That's why, as part of our COVID-19 Rapid Response Grant Round through the Southern Equality Fund, our team at the Campaign for Southern Equality awarded Frontline Grants to several organizations that provide direct services to LGBTQ Southerners at high risk of being impacted by COVID-19.
Today is #GivingTuesdayNow, a global day of unity and dedicated giving to organizations rising to meet the myriad challenges of COVID-19. We wanted to take this moment to highlight the organizations that the Campaign for Southern Equality has supported with Frontline Grants and lift them up as critical change-makers.
Please consider making a donation to one or more of the great organizations below. We're so grateful for the hard work they're doing during such a difficult time.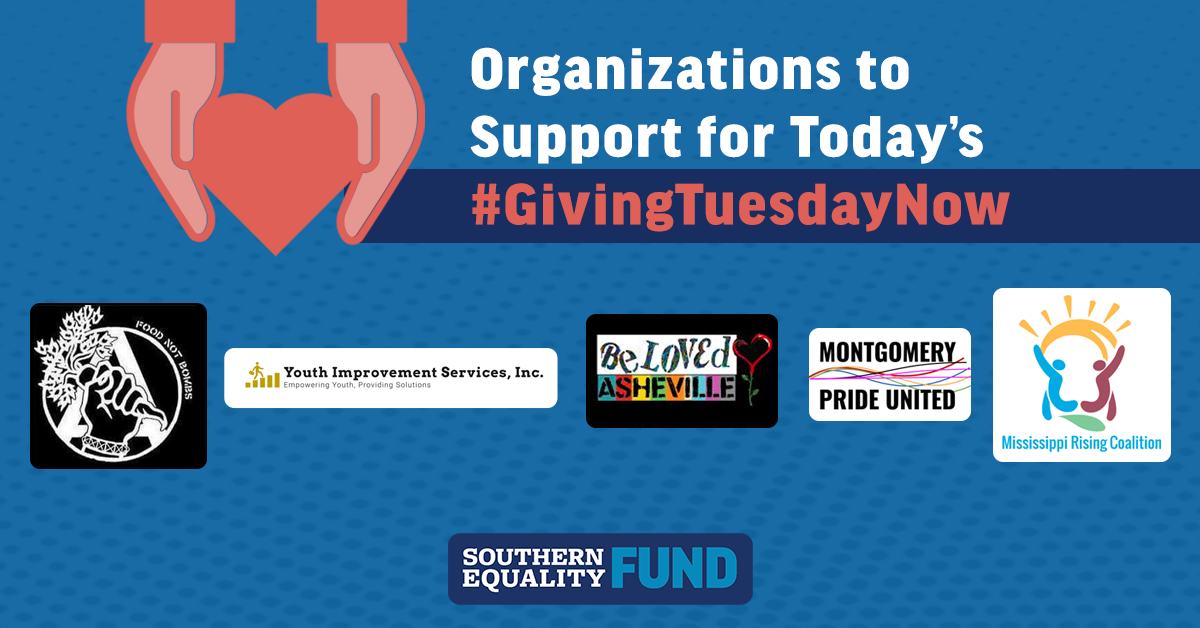 BeLoved Asheville has been focused on providing organized mutual aid in the Asheville, NC area, with particular emphasis on elders, people living in poverty, and people who are African American and Latinx. Learn more and donate to BeLoved.
Mississippi Rising has launched the Mississippi Gulf Coast Mutual Aid Network to address the immediate needs of vulnerable communities along the Mississippi Gulf Coast, including providing food assistance grants, ride assistance, and assistance with medical needs, as well as supporting people experiencing homelessness. Learn more and donate to Mississippi Rising.
Montgomery Pride United is supporting the LGBTQ community in Montgomery, Alabama, working to build community in this era of social distancing, provide emergency supplies to people impacted by COVID-19, and address the urgent and deep needs of LGBTQ folks in the heart of Alabama. Learn more and donate to Montgomery Pride United.
Upstate Food Not Bombs is distributing hundreds of meals each week in Upstate South Carolina, in service of the belief that food is a right, not a privilege. The all-volunteer organization recovers food that would otherwise been wasted, transforms it into healthy vegetarian and vegan meals, and distributes is throughout the community. Their work has been especially heightened throughout the pandemic. Learn more and get involved with Upstate Food Not Bombs.
Youth Improvement Services is a nonprofit based in Jackson, Mississippi that supports at-risk youth and others. Right now, the organization is providing emergency assistance and housing to homeless and at-risk LBTQ youth, including many who are impacted by COVID-19 and referred by community partners. Learn more and donate to Youth Improvement Services.