On Thursday, May 14 at 4:00pm ET, the Campaign for Southern Equality is proud to host Eric Tran, author of The Gutter Spread Guide to Prayer, for a reading from the book of poetry and Q&A discussion. It will mark our first Instagram Live and is the latest in our virtual programming series The Front Porch. We'd love to see you online on Thursday! Just use the form below and we'll be sure you get a link to the recording.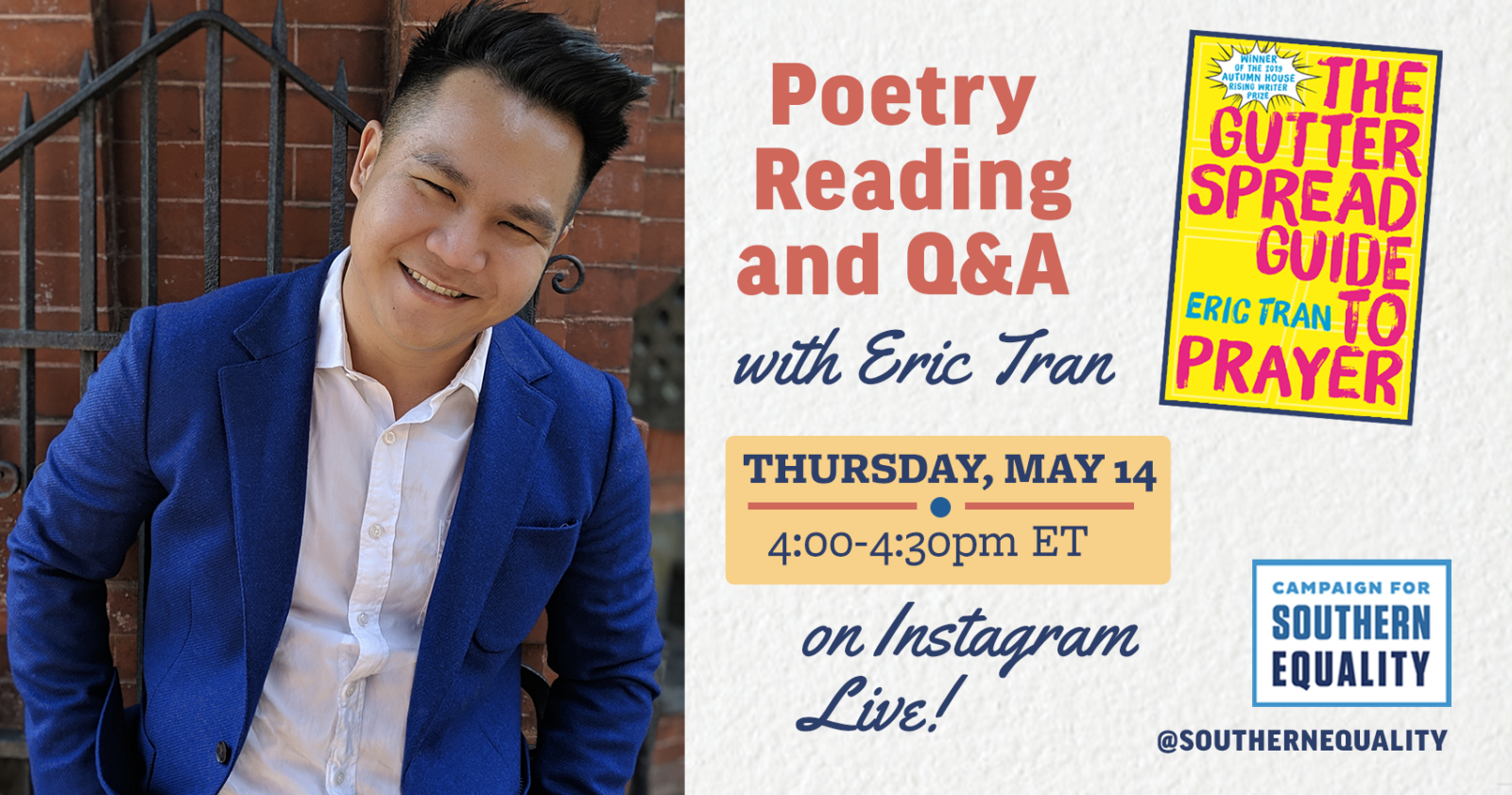 ABOUT THE WEBINAR:
Join the Campaign for Southern Equality and Eric Tran (Winner of the 2019 Rising Writer Contest) for a reading from The Gutter Spread Guide to Prayer. In the book of poetry, Autumn House Press describes, Eric Tran "contends with the aftermath of a close friend's suicide while he simultaneously explores the complexities of being a gay man of color.  At the intersection of queerness, loss, and desire, Tran uses current events, such as the Pulse nightclub tragedy, pop culture references, and comic book allusions to create a unique and textured poetry debut. He employs an unexpected pairing of prayer and fantasy allowing readers to imagine a world of queer joy and explore how grief can feel otherworldly." The reading will be followed by a Q&A discussion with Eric. Wynston Sanders, the Campaign for Southern Equality's New Southern Leaders Fellow, will host the Q&A session with Eric.
LOGISTICAL DETAILS
Join us from 4:00–4:30pm ET on Thursday, May 14. To receive an email reminder about the Instagram Live, submit the following form and a Campaign for Southern Equality staff member will be in touch.
Tell Us You're Coming on Facebook
About The Front Porch
This event is part of "The Front Porch: Virtual Gatherings for the #LGBTQSouth," a new initiative from the Campaign for Southern Equality to support LGBTQ Southerners through the unique challenges of the COVID-19 pandemic. Virtual programming will include community support groups, skill-sharing and skill-building workshops, and presentations from practitioners in their fields. All members of the CSE community are invited to join. Information about each webinar from The Front Porch series – including dial-in information, is available at www.southernequality.org/frontporch.
Get a Reminder About the Event!