Asexuality is still misunderstood by many people both inside and outside of the LGBTQ+ community. It is sometimes called an "invisible" identity, in part due to its lack of representation in media.  A new book by Angela Chen, Ace, seeks to bring awareness and understanding for asexuality and the ace community.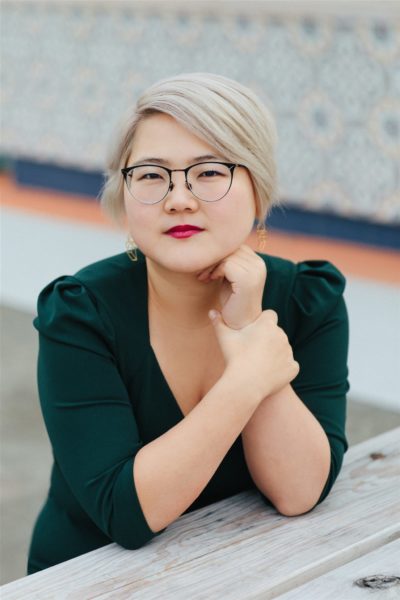 Angela Chen is a journalist who is also ace. She uses a mix of personal experience, reporting and stories from ace folks, and research to write this incredibly valuable book. The Campaign for Southern Equality's Communications Intern Eli Bundy recently got to talk to Angela about her work, representation for ace people in media, how the LGBTQ+ community can better support ace folks, and her acclaimed new book, titled Ace: What Asexuality Reveals About Desire, Society, and the Meaning of Sex. This interview has been edited for clarity.
ELI BUNDY: Hi Angela! We're so excited to chat with you today! Can you share for folks a bit more about who you are and what you do?
ANGELA CHEN:  I'm a journalist and a writer, and I live in New York City. I cover a lot of different things – I'm primarily a science and technology journalist. My book, Ace, isn't a science book though. It's more of a cultural studies book.
I think asexuality is really misunderstood. The modern ace movement has been around for years, but there are still so many misconceptions. Some people think being ace is the same as being celibate, others think it means you are anti-sex or judgmental. I wanted to help clear this up so folks can understand what it's like to be asexual in this society. I spoke to a lot of aces, I included my own experiences, and I spoke to experts.
Understanding asexuality is helpful for anyone, even if you're not ace, in the same way that understanding queerness can broaden your understanding of sexuality even if you're not queer. Understanding different models of attraction and the ace lens can help everyone look at their relationships and interactions differently. I hope this book can be valuable to anyone who reads it.
ELI: What did you learn from interviewing other ace folks, and how did you tell those stories in your book?
ANGELA CHEN:  I am ace myself, so I didn't need experts to teach me what it is. I actually start the book with my personal story. I came across the term "asexual" at 14. I saw the definition – it means that you don't experience sexual attraction – but I didn't associate it with my own life. It was only after I had been in relationships that I thought maybe I was asexual. I started questioning my sexuality again and wondering, what did I get wrong 10 years ago?
I also wanted to learn from other people about their experience of being  asexual  in a society that is so often focused on sex. Sex-negativity and sex-shaming exist – I would never say that they don't – yet at the same time there can also be so much pressure to be sexual and an assumption that there's something wrong with you if you're not. 
How do you negotiate sex and intimacy while being ace? What's it like to be disabled and ace? What's it like to be Black and ace? The book was really about learning about people's stories and experiences and seeing how broad and diverse the ace community is. There are aces who are sex-repulsed and celibate and aces who are sex-favorable. There are aces who have all kinds of romantic orientations, and aces who are aromantic. 
I write about the intersections of feminism and masculinity with  asexuality, including assumptions that a "real man" needs to be out there and "scoring" and sexually aggressive. I have chapters about romance and aromanticism and consent. I want to figure out how to reimagine our conception of romance and marriage. 
Eli: What are misconceptions that you hear about asexuality from allosexual people [defined as people who experience sexual attraction of any kind], and what can be done to address those misconceptions?
ANGELA CHEN: There are different kinds of misconceptions. Some people don't know the correct definition of asexuality, but I think a philosophically deeper misconception is that people think that "not experiencing sexual attraction" means you hate sex. In reality, you may not experience sexual attraction but still want to have sex for emotional reasons, because you're bored or want to feel closer to your partner. Asexuality helps people think through the nuances and particulars of attraction in a much clearer way.
There are a lot of misconceptions about asexuality being caused by a medical condition or trauma. There are certainly people in the community who are disabled or have experienced sexual trauma, and they are just as valid, but there's not always that link.
Often, people have heard the term "asexuality" and bring a lot of their own ideas about it, like that asexual people aren't passionate, or that they're frigid, or politically conservative. Those preconceived notions are not usually true. I want people to be curious about the term, to go forward and question it and understand it a bit further. 
Still, it can be exhausting to educate people about asexuality. People have questions, and you have to share your own experiences but also talk about the full spectrum. You have to lay so much groundwork to simply explain ace 101. For example, some people are aromantic [defined as having no interest in or desire for romantic relationships], but that's not my experience. Some people are sex-repulsed, but that's not my experience either. So you're trying to both explain your own experience and give people the full picture, which can be hard to do. 
ELI: What are some of your favorite pieces of media about asexuality or featuring asexual characters?
ANGELA CHEN:  There isn't enough ace representation and I would love to see more. In terms of mainstream television, we had Todd Chavez in Bojack Horseman and Raphael in Shadowhunters. But Todd is a cartoon and Raphael is a vampire, and they lack an element of realism. I'd love to see ace stories with more people of color, and older aces, and people who are gender non-confirming. And I'd love to see ace stories that don't make ace identity the entire focus of a character, just a part of them and their way of relating to the world.
Also, a lot of the research I did for Ace was academic. In terms of a good 101 book, I would recommend The Invisible Orientation by Julie Sondra Decker. 
ELI: Celebrations of queer people and queer spaces are often focused around sex and sexuality. How can the LGBTQ+ community be more inclusive to ace people?
ANGELA CHEN: I think that a lot of aces still feel that inclusion in the LGBTQ community is conditional. I think aces are queer, and I've been a guest on many queer podcasts. It's great to see acceptance of asexuality from LGBT orgs and institutions. At the same time, some people think that aces — especially heteroromantic aces — shouldn't be considered queer. But the thing is, even if you're heteroromantic asexual, you are still not heterosexual. You still experience compulsory sexuality. You are still outside the heterosexual life and the heterosexual norms that leave many aces feeling broken.
No ace, to my knowledge, has ever said that our struggle is the same [as the struggle of other people along the LGBTQ+ spectrum]. We don't want to stop people from celebrating their sexuality. Ace people don't want anyone to take away resources from other parts of the community, and many recognize their own level of privilege. For example, many aces don't have to come out. But at the same time, we have our struggles too. Many aces feel like they aren't "queer enough" and that can be painful as well. 
I think there should be a more open and inclusive way of thinking about asexuality within the queer community. Aces are queer and we have a valuable perspective to bring. We're not all fighting over a small piece of the pie – we should all be together in this fight against compulsory sexuality and homophobia and transphobia and ableism and so much else. 
Read more book spotlights and author interviews from the Southern Equality Book Club!