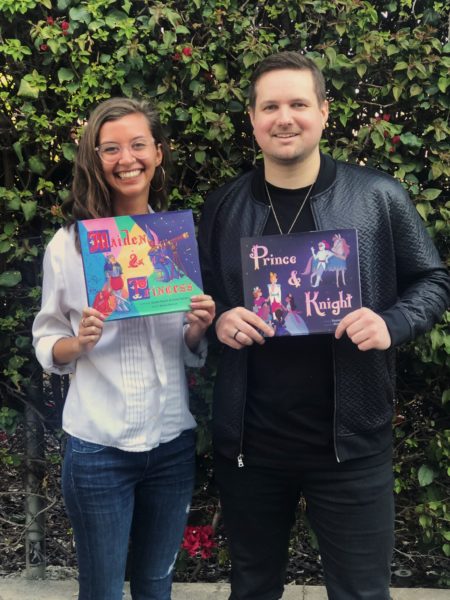 In the past few years, the number of books, TV shows, films, and music featuring LGBTQ characters has surged, with an increasing number of children's media creators recognizing the importance of incorporating LGBTQ themes and characters. The increase has a real impact on LGBTQ people, creating a more well-rounded climate from a young age about the reality that LGBTQ people live in every community.
It's part of why we're excited about this spring's release of Maiden and Princess, a children's picture book from little bee books. The book was authored by Isabel Galupo and Daniel Haack and illustrated by Becca Human, and it tells the story of a maiden who falls in love with a princess at a royal ball. In 2018 Daniel Haack authored Prince & Knight, and Isabel Galupo has worked for years in children's TV, including on programs like Clifford the Big Red Dog, Rise of the Teenage Mutant Ninja Turtles, and The Casagrandes.
We sat down with the authors to discuss how their book can contribute to the movement for LGBTQ equality across the South and beyond, the importance of featuring LGBTQ characters in children's media, and more. Take a look!
ADAM POLASKI: You've both been working in children's media for some time now – Daniel, through your work in kids' apps and your first book Prince & Knight, and Isabel as a junior executive at Nickelodeon and TV writer. What have you learned in that time with regard to LGBTQ representation in children's media?
ISABEL GALUPO: The one thing that I've learned in working in children's media the past five years is that there are people out there – both on the production side and on the consumption side – that are really ready for LGBTQ stories. I think there's this pervasive idea that if you want to pitch a story focused on LGBTQ characters, you're going to be fighting an uphill battle. And while there are certainly some studios and publishing houses that might still not be quite there yet, there are countless others that are game. Readers, viewers, media professionals, creatives – people are dying to see LGBTQ representation in the children's media space.
DANIEL HAACK: There are a lot of great examples of children's media giving space and visibility to underrepresented communities, but in some ways, LGBTQ representation is one of the final frontiers. Historically, there's been this specific fear that doing so might offend somebody or that it's too political, but I think Prince & Knight and some other examples have demonstrated that it's easy to talk about queer issues and include openly LGBTQ characters in a kid-friendly way. At the same time, people are realizing that erasing these identities suggests that being gay is somehow shameful or scandalous. I'm really grateful to organizations like GLAAD, which is supporting Maiden & Princess and is overall helping to move the needle in children's media.
AP: Especially across the American South, LGBTQ young people can face a deluge of often negative messages about being queer. How does Maiden & Princess counter those messages?
IG: Something that I love about Maiden & Princess (which you can also find in Daniel's first book, Prince & Knight) is that once the queer characters publicly announce their love, no one questions it. Instead, the Maiden and the Princess are instantly celebrated and uplifted. This directly challenges the notion that LGBTQ love stories are automatically full of strife and heartache – we deserve to have cheery romantic plot lines, too!
DH: I've had so many adults tell me they wish they had a book like Prince & Knight or Maiden & Princess when they were kids. For a lot us growing up, the narratives around being gay or queer were pretty dour, so it's nice to offer something more hopeful to future generations.
AP: I know your book is intentionally not overtly political. But are there lessons that readers can learn about overcoming oppression, being visible, and more that relate to some of the more real-life political challenges and triumphs LGBTQ people are experiencing right now?
IG: I definitely think that there's something to be learned from the Maiden's more internalized struggles in the book. She feels a lot of pressure to be with the Prince and live out a very specific, heteronormative kind of life. She's encouraged by the people around her to pursue a relationship that she knows isn't what she wants, and she has the courage to say "no" and seek out something different. I'm a queer femme who has a lot of passing privilege because of the way I look and my current straight-presenting relationship, and I've definitely experienced that same pressure from other people's assumptions and expectations of me. I hope that our book teaches kids that while it may certainly be nerve-wracking to stand up and be true to yourself, it's always worthwhile to do so.
"Once the queer characters publicly announce their love, no one questions it. Instead, the Maiden and the Princess are instantly celebrated and uplifted. This directly challenges the notion that LGBTQ love stories are automatically full of strife and heartache – we deserve to have cheery romantic plot lines, too!" – Isabel Galupo
DH: One of my favorite parts about these books is the portrayal of LGBTQ people in major leadership roles. I don't think we talk enough about how we've had five openly LGBTQ heads of government in the modern age, including three incumbents. In the United States, we're seeing so many LGBTQ people running for elected office and winning. I grew up in Wisconsin, where we've had people like Tammy Baldwin, Mark Pocan and Steve Gunderson pave the way on both sides of the aisle. Chicago just elected a lesbian mayor, Colorado has a gay governor, Oregon has a bisexual governor, and right now we're seeing Pete Buttigieg gain significant traction for the presidency. It's remarkable to see what even just a few years ago seemed unthinkable.
AP: Why is it important for LGBTQ people to be represented specifically in children's media?
IG: Because heterosexual people are represented in children's media all the time. There are a lot of people out there who might feel it "inappropriate" to show LGBTQ characters in a children's book, but I think that way of thinking is inherently homophobic. Children are bombarded with depictions of straight people falling in love, facing career challenges, hanging out with their friends, etc. multiple times a day on TV, in advertisements, and in books. There is nothing overtly mature or unsuitable about showcasing LGBTQ characters living out those same plot lines.
DH: For me, these books are equally as important for kids who might see themselves or their families in them as they are for kids who have had little or no exposure to LGBTQ people at all. Some of the best messages of support I've gotten are from straight parents whose kids loved the stories, and it can go a long way in terms of fostering lifelong understanding and acceptance. At the same time, for underrepresented groups, each portrayal carries so much weight. The LGBTQ community is a wildly diverse group of people, and what feels like authentic representation for one person might not be the same for someone else. More representation means each individual is more likely to feel seen.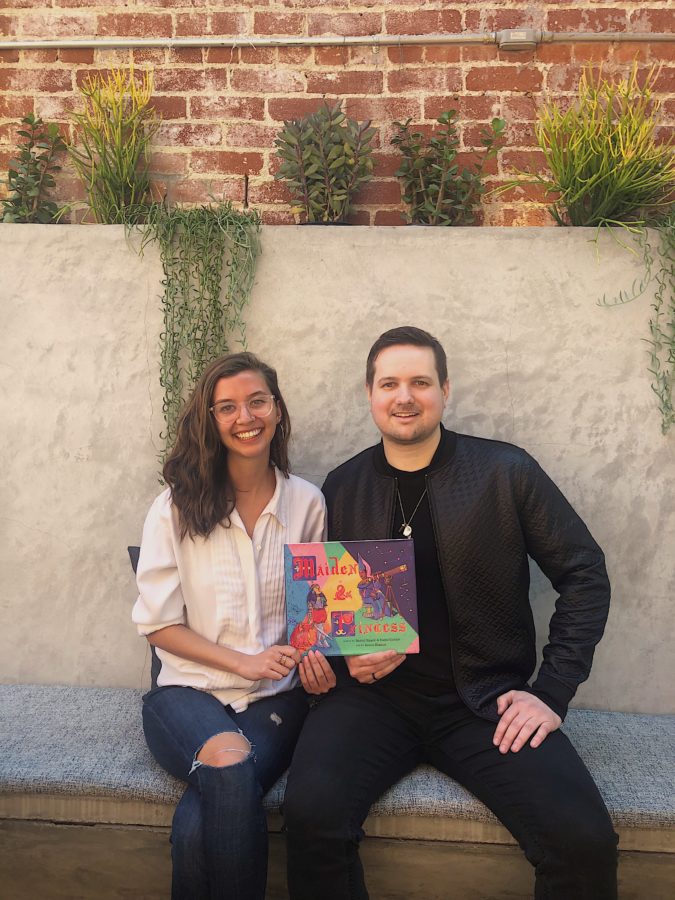 AP: What are the books and stories that you remember from your childhood? Did any of them influence or inform your work on Princess & Maiden?
IG: I was (and still am!) a voracious reader, and I really loved fairy tales of all kind as a kid. My favorite was the Mercer Mayer adaptation of East of the Sun, West of the Moon; the illustrations were so gorgeous, and I was enthralled with the idea of a young woman crossing an entire world just to get to the one she loved (so romantic!). Outside of fairy tales, two of the books that had the biggest influence on me were Each Peach Pear Plum by Janet and Allan Ahlberg and Chicken Soup with Rice by Maurice Sendak. They were both rhyming books, and I definitely returned to them for inspiration when working on Maiden & Princess.
DH: Before writing, we revisited a lot of classic fairy and folk tales in the tradition of the Brothers Grimm and other past storytellers. Writing a picture book isn't necessarily as easy as it seems, and I really like the challenge of building an entire world and developing characters and creating stakes in such few words. Some of my favorite picture books from childhood do that really well, like The Little Engine That Could, Caps for Sale and the Frog and Toad books. My parents were also good about introducing us to stories from cultural traditions other than our own. Latkes and Applesauce is one that's always stuck with me.
Learn more about Princess & Maiden here.
And click here to read other entries in the Southern Equality Book Club.