Today, April 22, the United States Supreme Court granted review in three cases concerning anti-LGBTQ employment discrimination. The cases seek to clarify that Title VII of the Civil Rights Act of 1964, which prohibits discrimination based on sex, also prohibits discrimination based on sexual orientation or gender identity.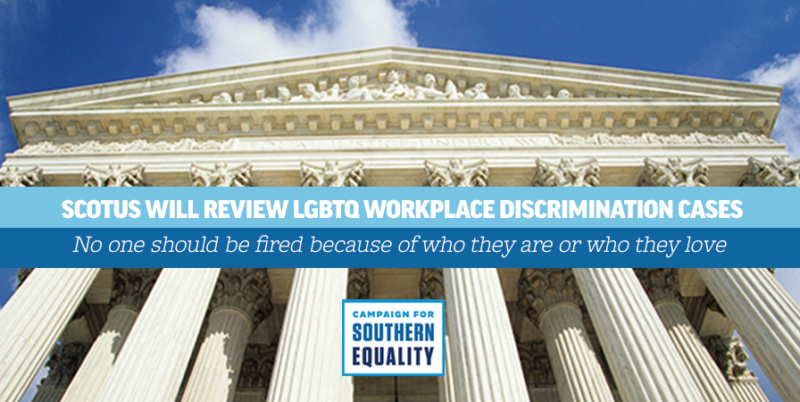 Jasmine Beach-Ferrara, Executive Director of the Campaign for Southern Equality, said today:
"One-third of LGBTQ people live in the South, and for far too many, harassment and discrimination at work is a very real problem. Now, the U.S. Supreme Court has the opportunity to recognize and affirm the growing legal consensus that federal law protects LGBTQ people, which would end the untenable patchwork of employment laws that leave LGBTQ people vulnerable. Too many LGBTQ people are hurting right now, losing their jobs and facing mistreatment from their employers solely because of their sexual orientation or gender identity. A ruling confirming that Title VII prohibits discrimination like this won't solve everything – we still have a lot of work to do in the South and nationwide – but it would be a long overdue step toward justice and equality for LGBTQ people."
The Campaign for Southern Equality will continue working with our partner organizations to tell a new story of the South, highlighting in the coming months the growing support for protecting LGBTQ workers from discrimination among Southerners. In the meantime, we'll keep up our work to strike down anti-LGBTQ laws, promote pro-LGBTQ policies, and promote policies that support racial equity, economic justice and immigration reform.