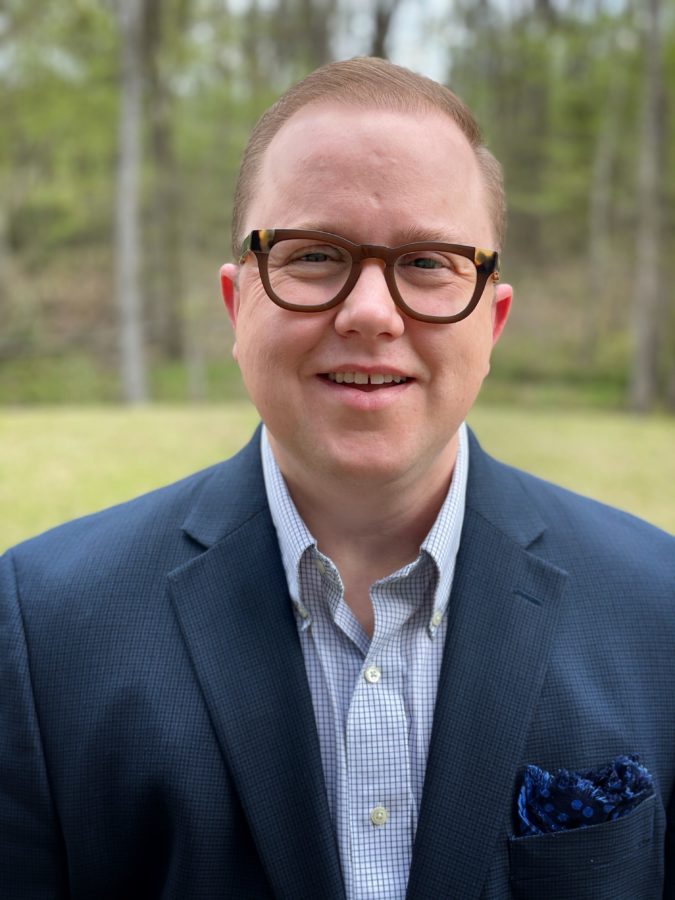 Chase Glenn has been an advocate for LGBTQ+ South Carolinians for years, first as the Director for AFFA and now as South Carolina's first-ever Director of LGBTQ+ Health Services at the Medical University of South Carolina.
While he has only been in the position for a few months, he is already making change in our medical field, which desperately needs to improve its relationship with queer and trans patients. Using his experience as a trans man himself, he is bringing one of South Carolina's largest healthcare systems up to speed for the LGBTQ+ community.
We got to talk to him about his recent career change from working for an advocacy non-profit to a large corporate system, and long-term plans for trans-specific healthcare resources in South Carolina.
Author's Note: This interview was between Chase Glenn and Eli Bundy, an LGBTQ youth in South Carolina.
Since you've changed jobs fairly recently, could you talk about your new position and what you are working towards in the long term?
I'll start by saying that some of this work that I'm doing was already happening before I got here. There are folks at the Medical University of South Carolina (MUSC) who have been working specifically for the LGBTQ community for many years, but it hasn't necessarily been cohesive or part of an overarching strategy. 
What I'm doing is trying to connect the dots. We have a number of providers working with our community, but there's not a formalized referral method (like folks saying, "Hey I'm seeing a trans patient, and they're interested in this procedure, is there anyone in our network doing this work?") or connections.
Especially when it comes to trans healthcare, I'm a big advocate for our primary care providers being really comfortable seeing trans patients and managing hormone therapy. For the time being, it's often viewed as a more speciality type of care. 
A lot of my job is getting people up to speed on trans health and around cultural competency – helping people get prepared to have these conversations. For example, a basic thing that we're not doing consistently is recording sex assigned at birth, gender identity, and sexual orientation – and we need to prepare our team members to have these conversations in culturally competent and sensitive ways.
We are looking at all of MUSC's processes, policies, curriculum and even facilities to assess how LGBTQ inclusive we are and where we're missing the mark, so we know where to focus our attention.  
MUSC has also expanded to different parts of the state through our regional health network, so my position is about engaging those areas outside of Charleston as well. 
It's a broad role, and my work touches on lots of areas. There's a lot of opportunities for us to be leading in the state in this way. I feel really excited to be in this position, that the role even exists, and that's very cool.
How can other healthcare providers and large companies support their patients and staff?
Education is always step one. In my work with AFFA, advocacy and education always go hand in hand. You can say all day that we should have greater protections or be able to set policy in a certain way, but a lot of times people don't have the knowledge to understand why that's important. CSE, for example, does a lot of education, and that's why. 
Sometimes, we have to start at a really basic level, and we have to establish cultural competency, which means having knowledge of key terms and concepts. I don't want to make assumptions that people understand what it means to be intersex, or the difference between gender and sex. So basic training, that's step one. 
Then we also want to look at policies we have in place. Human Resources, for example, what sorts of benefits do we offer employees? Are we recruiting with the intention of saying, "Hey we want to have LGBTQ team members, what can we do to recruit folks from different communities"? LGBTQ folks sometimes get left out of conversations around diversity in recruitment.
There's a lot of stigma attached to LGBTQ identity here in South Carolina and in other areas. People are afraid to talk about sexual orientation and gender identity – they think it's invasive or private, but we really need to normalize these conversations and give people the opportunity to self-identify. 
As an organization that is a leader in the state, we need to look across the board and make sure our facilities and systems are as inclusive and intentional as possible. These conversations need to be included in new employee orientation and then repeated and covered on a regular basis too, not just once.
Right, and things continue to evolve within our community, and the healthcare community needs to be able to keep up. Could you talk about resources for trans South Carolinians looking to receive gender-affirming hormones or surgeries?
We currently do not have anyone in our system who is providing procedures like chest masculinization here at MUSC. I know a lot of folks who travel outside of South Carolina to get surgeries – whether it's Charlotte, Florida, etc. The goal here at MUSC is to think long-term: How are we meeting those needs, whether it's training existing providers to be prepared to do these procedures, or recruiting physicians to come and provide this care? We don't have firm plans in place, but that's a longer term vision.

What I hear from folks here is that specifically with regard to trans-affirming medicine, they see this as a need. Some real intentional investment in this area is on the horizon.
What's the appropriate process for going about finding people who do these processes?
We're still working to identify all of the providers we have throughout the MUSC system, and we want to be thoughtful so we're not publishing this list of LGBTQ providers and then missing someone really obvious.
I have to give AFFA a shout-out. There are some resources on AFFA's website for both physical and mental health care providers in the Charleston area. CSE also has the Trans in the South guide that's a fantastic resource.
I would also offer myself up as a resource – I'm finding myself in this position, people know I'm here, and I try to help folks navigate the system. 
For me, finding trans-affirming healthcare around here has been a struggle at times. It can be really helpful to hear individual stories, but the ones I come across are always from LA or New York and not here in South Carolina.
Yeah, in my first few months here, I cold-called people who've tried to formalize LGBTQ healthcare programs across the country – particularly at academic medical centers and I've met with teams who've done this work, asking what worked for them, how they got off the ground, etc. Many of those programs started as a Patient Navigator position – people who help patients find the care they need in the health system.Some people may be really adept at Googling, or know folks who know people, but many people may not have access to that, or they may have mistrust for providers. So we want to make it an easy pathway to access that care.
In what ways has South Carolina made progress around LGBTQ+ rights in recent years, and what are our next steps? What do we need to be careful about, what do we have to look forward to?
There is a coordinated legislative effort in states across the country to target trans folks and specifically trans youth. This sort of legislation has come up in South Carolina several times, and we've been fortunate to have community organizers like SC United for Justice & Equality, who have been able to fight that legislation, and that's part of why we've been so successful at fending off those bills.
When it comes to LGBTQ inclusive healthcare, this shouldn't be a political issue.  For MUSC, this is about leaning into our values as an institution, including respect and compassion, and our goal to provide the highest quality care to all South Carolinians. We don't want to leave anyone out, and we're here to care for everyone.
What words of wisdom do you have for the community after so many years of incredible LGBTQ+ advocacy?
I think we all want to see change happen immediately. And I am the first in line to say that I wish I could make everything magically better, here at MUSC in particular, and get us all up to speed. But I'm realizing quickly as a massive organization like MUSC, this is a huge undertaking and it's going to take time. 
I get it: I want change, like, today. I've had negative experiences for years when it comes to health providers. Yesterday was too late for me. What I can say is that we're working on this and that I have an open door. I want people to know they have an advocate here, that they have a resource, and we're going to work on this together and we're going to make progress.
I feel that! As young people often we're like, why isn't this happening yet? But that's our job as advocates, to move the needle and push forward.