NOTE: This blog post was a collaboration between Abby Bowen and Adam Polaski of the Campaign for Southern Equality. 
Lawmakers across the South keep pushing bills to exclude children from playing sports, and increasingly, they're attacking trans young people's access to critical health care. This week, Arkansas, Florida, South Carolina and North Carolina have bills moving in their legislatures which would restrict trans young people from participating in school sports. And on Tuesday, Arkansas enacted the worst anti-LGBTQ bill of the session so far – a bill that bars trans minors from accessing trans-affirming healthcare. Tennessee also continues its discriminatory efforts against the LGBTQ+ community in schools.
As these bills progress, LGBTQ+ community members and accomplices continue fighting them every step of the way. We see the oppressive nature of this legislation and we promise to stand with queer youth.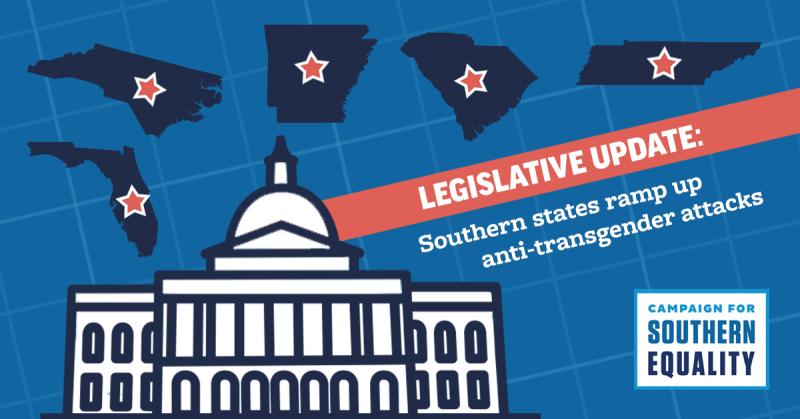 Here's a look at this week's developments:
Arkansas
While Arkansas Governor Asa Hutchinson stands by his decision to discriminate against transgender girls in sports, he drew a line at denying gender expansive children access to healthcare. The governor vetoed Arkansas HB1570, the bill banning gender affirming care for minors. At a press conference on April 5th, Governor Hutchinson acknowledged the danger in denying gender expansive children the appropriate medical care and described the bill as "off course" and "vast government overreach." Unfortunately, the state legislature overrode the governor's veto the next day.
In March, Arkansas signed SB354, a trans exclusionary sports bill, into law. The legislature is now moving another exclusionary sports bill, SB450, through its chambers. The main difference between the bill that passed and the new bill under consideration is that SB450 would allow the Attorney General to punish schools that allow transgender girls to play sports. The new bill passed the Senate on April 5th and is now in committee in the House.
In response to the veto override, the ACLU announced that they will be challenging the law in court. Additionally, the Arkansas General Assembly is adding restrooms and changing facilities to their priority list. Arkansas HB1882 would restrict restroom access in all state owned buildings, including public schools. The bill would allow for lawsuits if schools and other agencies operating in state owned buildings do not discriminate against transgender and nonbinary individuals. 
When Gov. Hutchinson vetoed HB1570, Ivy Hill from the Campaign for Southern Equality said: "I'm glad that Gov. Hutchinson vetoed this bill, the most extreme anti-transgender bill to ever clear a state legislature. Every leading medical authority recognizes that supporting transgender youth is critical to their health and well-being – and the state's attempted interference in the doctor-patient relationship is alarming. Now it's time for the Arkansas legislature to sustain the governor's veto – and for governors in other Southern states to join Gov. Hutchinson in opposing dangerous anti-transgender measures in their own states. Undermining the experience and guidance of medical professionals by prohibiting treatment would harm trans kids, their families, and our communities at large."
Florida
Florida is yet another state trying to ban children from playing sports. HB1475 would require students to undergo invasive examinations to determine their eligibility to play sports, which the bill erroneously describes as "routine." These examinations are invasive and the requirements outlined in the bill would prevent trasngender girls from participating. The bill passed out of committee on April 6th and will now go before the full House chamber. 
Tennessee
Legislation requiring parents to be notified when curriculum relating to sexual orientation or gender identity is going to be taught is progressing through both chambers of Tennessee's legislature. The Senate bill, SB1229, passed the chamber on April 5th. The House version, HB529, has a House hearing on April 14th. This legislation would also allow parents to pull their children from school rather than allow them to learn more about sexual orientation or gender identity. Tennessee's legislature is further interfering in schools with HB1233. In its simplest terms, HB1233 is a "bathroom bill," in that it determines which restrooms or changing facilities students have access to according to their "biological sex." This bill would bar transgender students from using multiple occupancy bathrooms in alignment with their gender. The bill has a committee hearing April 13th. 
North Carolina
On the five-year anniversary of House Bill 2, North Carolina's infamous transphobic bill, the General Assembly introduced another piece of transphobic legislation with HB358. This trans-exclusionary sports bill will be heard in the House Judiciary I committee on April 14th at 12:00 pm. 
Two other anti-LGBTQ bills were filed this week. One of the extreme bills, SB514, would prohibit transgender people under the age of 21 from receiving essential medical care, require state employees – such as teachers, administrators, or counselors – to "out" transgender students to their parents, and protect the dangerous practice of anti-LGBTQ "conversion therapy." Another bill, SB515, would allow any medical provider – defined so broadly to reach all health care entities as well as individual staff at hospitals, nursing homes, clinics, or pharmacies – to refuse to do anything they object to on the basis of conscience, including even providing information or referrals. It in effect establishes a broad and dangerous "license to discriminate" against LGBTQ people, pregnant people, or people of differing faith backgrounds.
Rev. Jasmine Beach-Ferrara, Executive Director of the Campaign for Southern Equality, said: "Our state learned a lesson all too painfully with HB2: Extreme bills that target LGBTQ people harm individuals, communities, and the fabric of our state itself. We're working toward building communities across North Carolina where every LGBTQ person can thrive: That means being treated with dignity and respect, it means living free from discrimination, and it means being able to access the health care you need and deserve in your hometown."
South Carolina
A few weeks ago, the South Carolina House Judiciary committee voted to table a hateful bill aimed at barring transgender girls from playing sports after the bill, HB3477, passed out of the subcommittee. Rather than listen to their colleagues and community, legislators instead filed HB4153, a near duplicate version of the original bill.
Brave members of the community traveled to testify in person before the subcommittee who largely ignored them yet again. The bill passed out of subcommittee on April 8th and will now go before the House Judiciary committee again where we hope it will meet the same fate. To learn more about how to fight this bill and other bills in South Carolina visit www.southcarolinaunited.org. 
Ivy Hill of the Campaign for Southern Equality said this week, "This latest effort to sneak anti-transgender proposals into law in South Carolina is abhorrent: Twice already, leaders in Columbia have rejected this bill, an ugly attempt to target transgender kids, and it's well past time for us to move beyond this manufactured problem. Rep. Trantham and other anti-transgender politicians think that we won't notice their desperate last-ditch attempts to endanger trans youth – but our powerful grassroots movement of LGBTQ advocates and allies in South Carolina is here and ready to fight. No one needs to be saved from transgender youth – but transgender youth and basic human dignity need to be saved from divisive representatives like Rep. Trantham and this shameful proposal."