On October 5, during the first day of the new U.S. Supreme Court term, the Court denied review in a case brought by Kim Davis, who made headlines in 2015 when she refused to issue marriage licenses to same-sex couples in her county in Kentucky. As a part of the cert denial – and respecting the denial of cert – Justices Samuel Alito and Clarence Thomas included several lines casting aspersions on same-sex couples and the Court's 2015 ruling in Obergefell v. Hodges, which brought the freedom to marry to same-sex couples nationwide.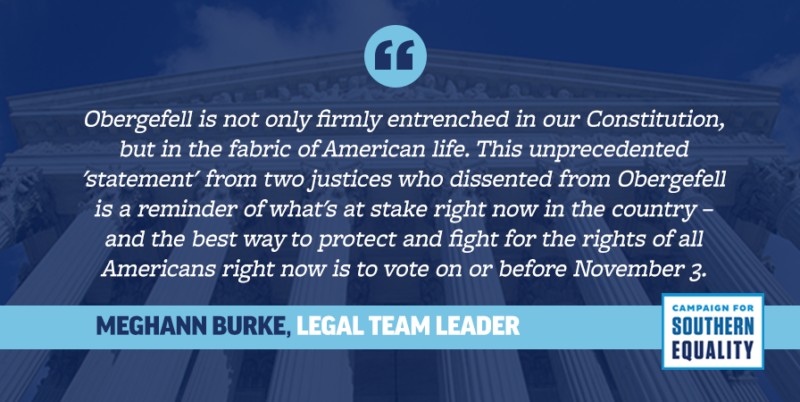 "By choosing  to  privilege a novel constitutional right over the religious liberty interests explicitly protected in the First Amendment, and by doing so undemocratically, the Court has created a  problem that only it can fix," Justice Thomas wrote. "Until then, Obergefell will continue to have 'ruinous consequences for religious liberty.'"
In the hours following the opinion our staffers at the Campaign for Southern Equality heard intense concerns from LGBTQ Southerners and allies across the region. We know this is a scary time and a cause for concern – but we also know that in the five years since the marriage decision, the country has only grown to embrace the freedom to marry for same-sex couples at higher rates than ever. The law is on our side, public opinion is on our side, and marriage for same-sex couples isn't going anywhere.
Meghann Burke, Campaign for Southern Equality's Legal Team Leader, said today:
"Obergefell is not only firmly entrenched in our Constitution, but in the fabric of American life. Yesterday's unprecedented 'statement' from two justices who dissented from Obergefell is a reminder of what's at stake right now in the country – and the best way to protect and fight for the rights of all Americans right now is to vote on or before November 3."
Other legal leaders echoed reassurances that the freedom to marry is safe and settled law.
"That Justices Thomas & Alito disagree with marriage equality is not new – but they are only 2 of 8," said Shannon Minter of the National Center for Lesbian Rights (NCLR). "The freedom to marry is firmly ensconced, and we are not about to go back. Just make sure your legal house is in order & get active!"
And James Esseks of the ACLU said, "It is appalling that five years after the historic decision in Obergefell, two justices still consider same-sex couples less worthy of marriage than other couples. When you do a job on behalf of the government — as an employee or a contractor — there is no license to discriminate or turn people away because they do not meet religious criteria."