June has been a busy time, to say the least. For weeks the country has been engaging in a deepened and long overdue conversation about racial injustice, police brutality, and the importance of dismantling white supremacy. On Friday, the Trump Administration issued a cruel rollback of healthcare protections for transgender people. And just yesterday, the U.S. Supreme Court published a historic, sweeping decision protecting LGBTQ Americans from discrimination in employment, which will have reverberations in so many areas of life, including housing, healthcare, and education. Plus, we're just a few months away from one of the most critical elections of our generation, and we're grappling with the ongoing impacts of the COVID-19 pandemic.
We know that's a lot to handle. And it can be hard to keep track of everything.
This week the Campaign for Southern Equality is proud to be involved in two virtual events that can help you get a grasp on some of these critical conversations – especially as they relate to LGBTQ folks in North Carolina. Please see below information about the two events (today, Tuesday 6/16 at 4:00pm ET an event on the SCOTUS ruling, racial injustice, and trans healthcare with Equality NC; on Thursday 6/18 at 6:00pm ET an event on how we can #QueerTheVote in North Carolina with qnotes), and RSVP.

4:00pm ET – Facebook Live
Allison Scott, Campaign for Southern Equality's Director of Policy and Programs, will join Equality North Carolina's Executive Director Kendra R. Johnson and Policy Director Ames Simmons for a discussion about yesterday's U.S. Supreme Court ruling, Friday's rule change from the Trump Administration on transgender protections in healthcare, and this critical moment of deepened, intentional conversation around racial injustice. RSVP for the event on Facebook.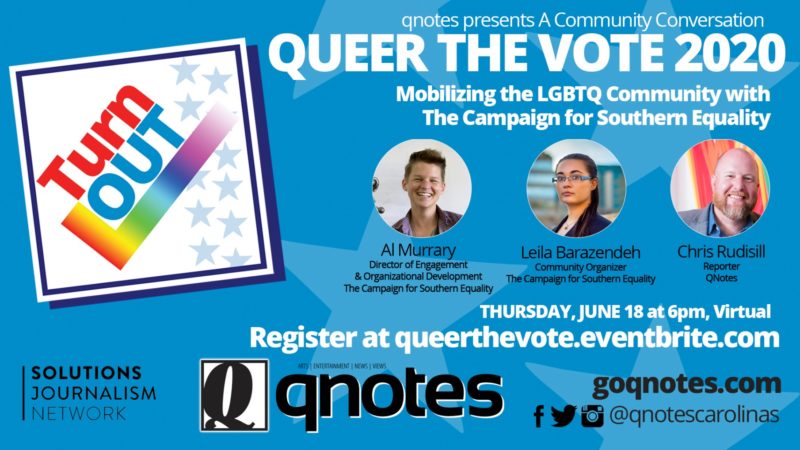 6:00pm ET – Webinar and Facebook Live
Campaign for Southern Equality's Director of Engagement and Organizational Development Al Murray and Community Organizer Leila Barazendeh will join qnotes to talk about voter suppression efforts further disenfranchising the LGBTQ community and learn ways for nonprofit and community organizations to motivate people to vote. RSVP for the event on Eventbrite.