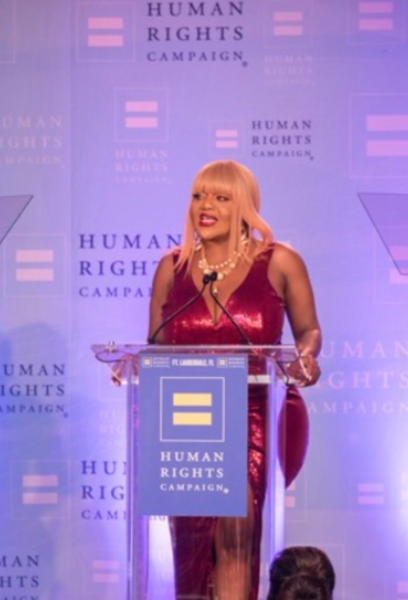 Note: Dr. Randy Fair, who wrote this article, is the author of Southern. Gay. Teacher. https://southerngayteacher.com.
When Tatiana Williams was growing up in the Liberty City neighborhood of Miami, a place known for its high crime rates, poverty, and racial and social inequalities, her mentor and grandfather gave her the nickname, "Cap," short for captain. This moniker would prove prescient, as Williams, along with her co-founder Carson Graham, have gone on to manage the helm of the award winning, Transinclusive Group.
Most recently, Transinclusive Group has received the 2020 Human Rights Campaign Equality Award for its work providing a range of services that include a weekly support group, a safe space for people transitioning, HIV prevention and education, case management, substance abuse treatment, support needs, transitional housing, and in-home HIV testing.  All of this work is carried out from the group's home, The Pride Center at Equality Park in Wilton Manors, Florida.
Much of Williams' inspiration to found and lead this group comes from her desire to combat the longstanding problem of violence against transgender people. "A very close friend was murdered a few feet away from me in 1999," Williams said. "At that time, I had no idea of what 'Transgender Day of Remembrance' (TDOR) was. Unfortunately, after her tragic murder, which remains unsolved, it seemed as though there was a domino effect where many more of my friends would succumb to their deaths consecutively at an alarming rate due to senseless violence stemming from transphobia. I have seen all manners of violence against transgender people: abuse from domestic partners, jumps from cars while fleeing attackers, rapes at gunpoint, and actual gunshots from attackers.  I could have easily been one of those ladies. It's by the grace of God I'm still here."
Williams points out that, "the average age expectancy for a black trans woman is 35."
It's part of why Williams feels compelled to tell the full story of these women:  "Transgender women of color, specifically black trans women, are still being murdered today at an alarming rate. We have to make sure our voices are being heard and the correct narratives are being told. This is the root of my work."
* * *
Transinclusive Group cofounder Carson Graham says that transgender men also face violence – but that "depending on where they are located, it may not be as prominent as the violence trans women face. Ky Peterson was locked up for over 10 years for defending himself during an attack by a cis man who was following him home on the sidewalk and attempting to sexually harass him. Ky was just released a few weeks ago."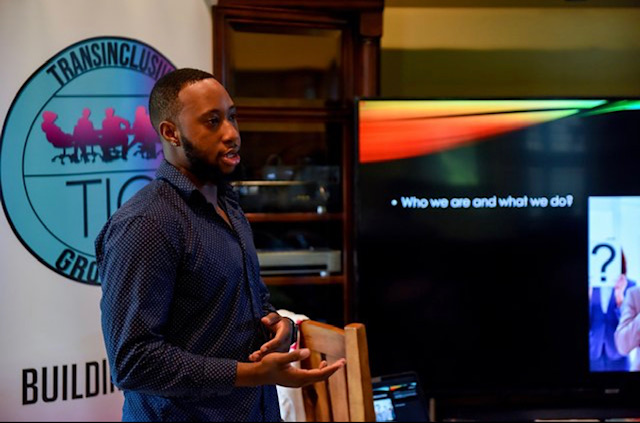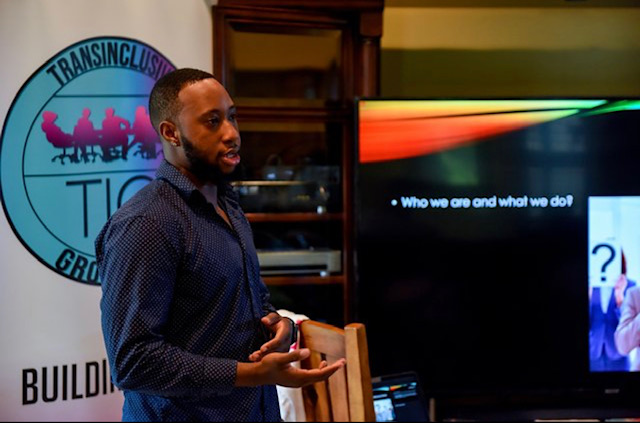 While the violence against transgender people remains a similarly monumental problem as it was when Williams and Graham transitioned, the transitioning process has changed greatly since Williams first embarked on her journey.  Williams celebrates these changes, reflecting, "In the 80s and 90s, we did not have half of the resources that we have in the community today. We did not have physicians readily available to prescribe hormone replacement therapy (HRT). We would obtain our HRT from the black market. We did not have plastic surgeons who did the proper research as it relates to conducting plastic surgery on transgender individuals. So many jobs were botched. We resorted to illegal silicone injections, and in some cases, many tragically succumbed to death while having these procedures administered and/or were left with no follow-up.  If you did not have sexual reassignment surgery (SRS), you could not get your gender marker changed. In addition, HIV in the 80s looked totally different than it does today. I witnessed many of my sisters die from this virus due to the lack of education about the virus, treatment alternatives, lack of health care, lack of employment opportunities to pay for treatment, and employers who discriminated and refused to hire transpeople because of their gender identity or sexual orientation. Therefore, they had no choice but to deal with it or turn to illegal activities."
Preventative health care is not taught enough to the trans masculine community as a whole. Trans men should be able to have health care spaces where they can feel safe and be treated properly." – Carson Graham
Although Graham's medical transition began in 2014, later than Williams' transition, he agrees that things are vastly different now: "Things have changed drastically for the trans community, especially here in South Florida. When I first started out there were no specific trans groups here on a consistent basis. Doctors were hard to find because they didn't feel comfortable serving trans folks. I had to go into debt getting my top surgery.  I took a financial hit and lost my job during that time. Now, we have our organization [and others like it] to help with emergency needs like housing and medical care. And getting a name change and gender marker change has become so much more accessible here in South Florida.  Back then, I used to have to do my own research and fill out forms by myself with no prior courtroom knowledge. Now you can call us, TIG or other organizations that can help fill out these forms with you and go to the courthouse."
* * *
These advances in the life experiences of transgender people in South Florida have come in no small part due to the efforts of activists like Williams and Graham.
After meeting at a community event in 2017, Williams and Graham bonded as Black, transgender people and discussed their shared experiences with discrimination that they had endured and their mutual desire to make the lives of other transgender people better.   Williams credits Graham for educating her about the unique experience that trans men experience.
"We had several conversations about the needs and barriers within the healthcare system as it relates to trans affirming care," Williams said. "He educated me about the trans masculine experience, of which I was ill informed at that time. He informed me of how he would help other trans masculine individuals navigate their transition through his experience and how he shared best practices when utilizing the healthcare system."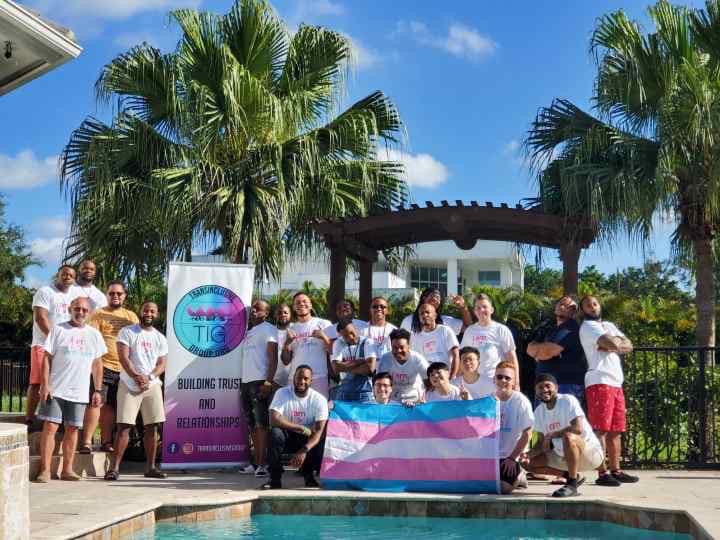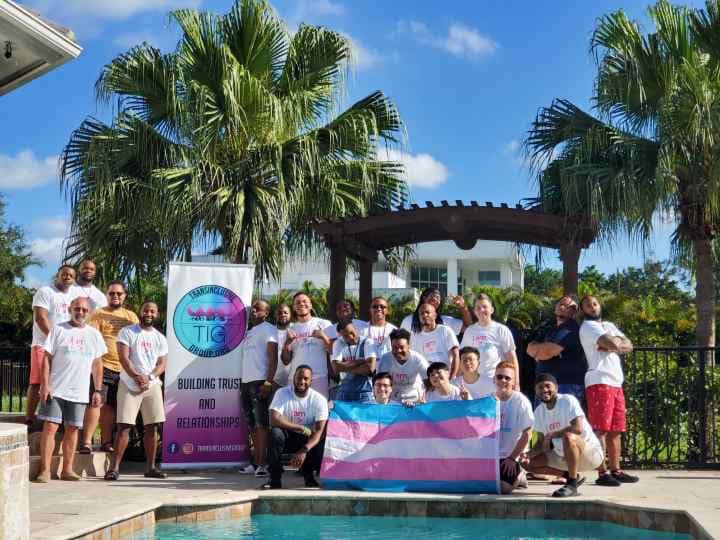 Graham expands on the unique experiences trans men face: "Preventative health care is not taught enough to the trans masculine community as a whole," he said. "This includes the lack of accurate data that shows how impacted trans men have been these past years. Health care can still be a challenge, as you cannot always find an endocrinologist or gynecologist who is familiar and feels comfortable with trans male bodies. Many doctors may not be in network or may not accept insurance. I can only name about two doctors that I can refer a trans man to that we have vetted out for reproductive health. SRS and top surgery costs have increased over the years, which can cause depression in our community because of the health care barriers. Trans men should be able to have health care spaces where they can feel safe and be treated properly."
* * *
Although these two leaders have had varying experiences due to gender, they found much commonality in the discrimination they both encountered in both the medical community and the community at large.
"We discovered through our discussions that we both shared similar experiences within the transgender spectrum as to discrimination and mistreatment in a wide range of public and private settings: employment, housing, healthcare, and social services which presently exist today," Williams said. "We also shared our experiences of attending community groups which did not represent people who looked like us, which is why we decided to create a group that was inclusive and welcoming to people of color."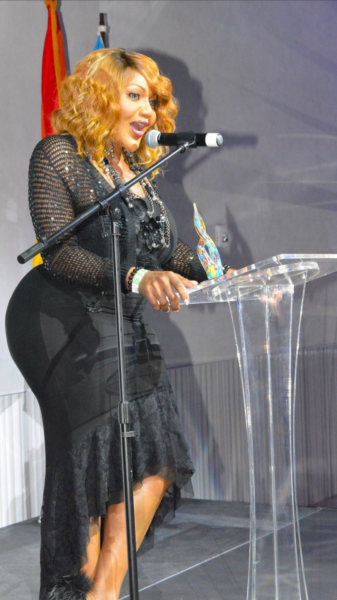 This led the two to expand on Williams' work as founder and CEO of Trans Women in Need of Service. In expanding the reach of the group Graham and Williams found that "the Transinclusive Group represents everything we envisioned."
As the work of the group has come together, Graham and Williams have reached out to underserved communities. "We conduct targeted outreach to transgender communities of color to include sex workers, intravenous drug users, formerly incarcerated individuals and transgender youth that are experiencing homelessness," they said. "In 2019 we implemented the Transinclusive Emergency Crisis Fund (TECF). This program is uniquely tailored to provide transgender individuals with immediate assistance in their time of need, inclusive of financial aid for prescription drug cost; lab work for hormone replacement therapy (HRT); transportation assistance in the form of bus passes, UBER, and LYFT to medical appointments; work as needed; food vouchers, utility payments; rent assistance; and temporary housing inclusive of limited hotel accommodations. We also provide technical assistance and financial support with gender affirming documents, such as name and gender marker change, assistance with updating birth certificates, social security cards and other related documents. TIG's tailored services decrease barriers to healthcare, increase the availability and accessibility to essential support services that are crucial to improving the overall quality of life for transgender and gender non-conforming individuals."
As broad as the work is that Graham and Wiilliams provide for the transgender community, it doesn't stop there. Williams and Graham have also taken on the task of educating the general population. This has meant doing presentations for cisgender people (including lesbian, gay, and bisexual people who are cisgender) and for people who aren't members of the LGBTQ community at all.
"I truly believe knowledge is power and educating others who are not transgender gives me the ability to plant the seed in efforts to help them grow," Williams said. "It's important for people to know that transgender individuals face disparities, inequities, and inequalities that place us at significant risks when compared to the general population. Research findings illustrate patterns of mistreatment and discrimination in reference to health care, employment, and housing, which increase our risk for violence, harassment, and incarceration. If you are a black trans woman, this includes murder.  We are dealing with a disadvantaged and marginalized population when it comes to gender – and in my case, race. It will take all levels of administration and government to place emphasis on the transgender community and address all aspects of our lives. I use my voice and my platform to make a difference and bring about change."
It's important for people to know that transgender individuals face disparities, inequities, and inequalities that place us at significant risks when compared to the general population. It will take all levels of administration and government to place emphasis on the transgender community and address all aspects of our lives." – Tatiana Williams 
Part of Graham's work in educating the larger community involves making the trans male experience more visible: "Trans men are visible, but we tend to be left out of the spotlight or conversations, mostly because organizations tend to focus more on the violence against trans women and the increased data about trans women that they are aware of.  For example, trans men are impacted with HIV and violence against them, but this information has not been highlighted like it should. It just takes reaching out to trans men who are leaders in the community in order to help fix that gap with connections. Our organization is one of the support groups that caters to trans men and trans women weekly on Thursday nights. I have an advantage by being able to mention this in questionnaires, and I also use TIG as a platform to help spread more awareness about the challenges that trans men do face."
* * *
One of the advantages Williams brings in reaching out to the broader audience that both leaders want to educate comes from her celebrity status as a performer. Her career has been extensive; "Tatiana Braxton is my stage name," she said. "I have been both a contestant and judge in LGBTQ pageantry for over 24 years. I have competed and won many local, state, and national beauty pageants, namely Miss Black America, Miss Black Universe, Miss Sweetheart International, and Miss Duval, and I was a top twelve finalist for four years in the prestigious Miss Continental National Pageant."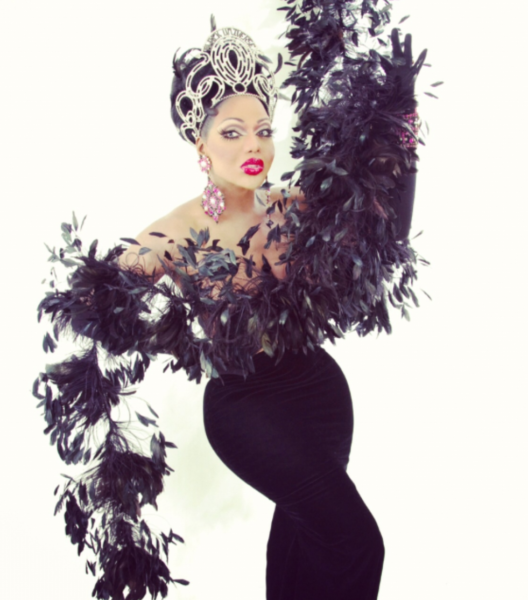 Williams explained how this experience has been helpful in her current career, "Many may not understand or make the connection between advocacy and pageantry; however, being transgender and a part of the LGBTQ community, dealing with homophobia, transphobia and discrimination brings us right back to the intersection of equality. This is our advocacy connection. Fighting for equality is everyone's fight, regardless of where we meet on the spectrum. As a national entertainer in the LGBTQ community, a national platform and recognition gives you the ability to coalesce, expand your reach, and use your platform to educate and mobilize your community. As an activist, one must lead by example and be able to mobilize their community to create change."
In addition to the education efforts, Williams also reaches out to the larger LGBTQ community through her work as the HIV testing coordinator for The Pride Center at Equality Park.  At first, Williams worried about taking on such a mammoth task, "My first thought was, I'm not ready for that just yet." However after accepting the challenge, Williams expanded her role in the job, "My role went from conducting HIV testing to advocating for marginalized and underserved communities as it relates to healthcare disparities and other socioeconomic issues that contribute to individuals being impacted by HIV."
Williams is tireless in her work in the area of harm reduction, but she recognizes the limits of what she is able to do:  "Getting LGBTQ people to engage in harm reduction was difficult in many aspects, especially when meeting them where they are, which can be dangerous. Working with people from diverse backgrounds and different life experiences teaches you that it does not matter how much you want someone to change or how much potential they may have, the change has to start with the individual.  People who live destructive lives cannot be forced into changing their behavior, but we can assist them with referrals for intervention with professionals who specialize in behavioral modification. I am someone who wants the best for everyone, although I know it's not that simple. I understand that social determinants, such as mental health, homelessness, lack of family support, self-isolation, and socioeconomic issues can take a toll on individuals – and that some find refuge and comfort in harmful activities. Sadly, many individuals who participate in harmful activities are well aware of what they are doing and know the harm that these activities have on their health and their overall lives. We must be mindful that we are dealing with adults in most instances, and even though they indulge in harmful behaviors, we must respect them and their privacy.  I personally feel that the community resources are inadequate to support the magnitude of work that is needed within the LGBTQ community.  To remedy these inadequacies, the work must start at all levels of government in efforts to address many of these issues that contribute to the quality of life for LGBTQ individuals."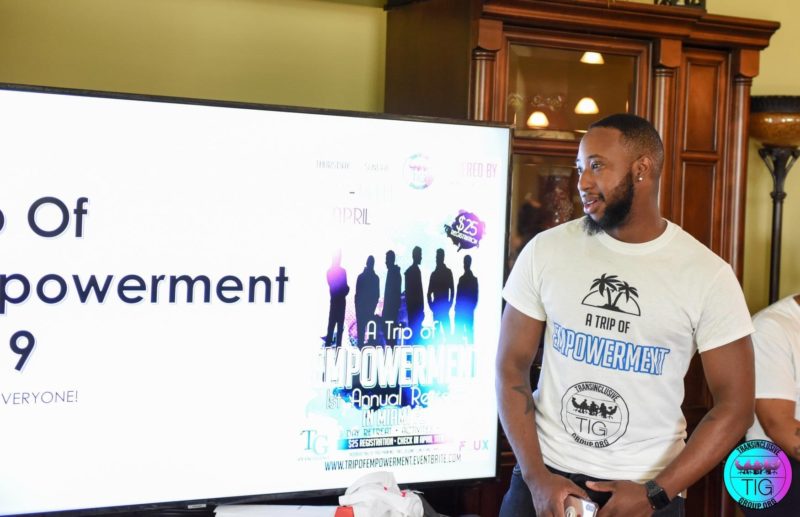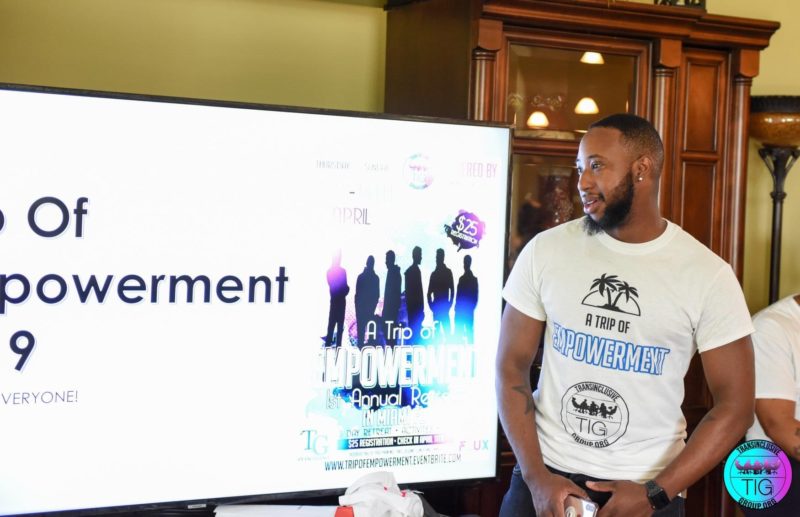 Despite the challenges that remain ahead, Williams remains upbeat. "Some are still complaining today about what we don't have," she said. "I understand we need more, and I advocate for more. However, I have seen major progress and I am able to be a part of the progress and change from what I once knew."
Both Graham and Williams are using the hardships that they faced to ease the way for those coming after them.  Through their efforts, transgender people throughout South Florida are finding that their path – while still unimaginably challenging – is made easier by because of the course that these two activists have already charted.