This week, on Monday, February 3, the House of Delegates in Virginia passed a bill to protect young people under the age of 18 from 'conversion therapy,' the dangerous and discredited practice through which licensed mental health providers attempt to change a person's sexual orientation or gender identity. Techniques can range from extreme electroshock treatments or institutionalization to "counseling" services based on pseudoscience.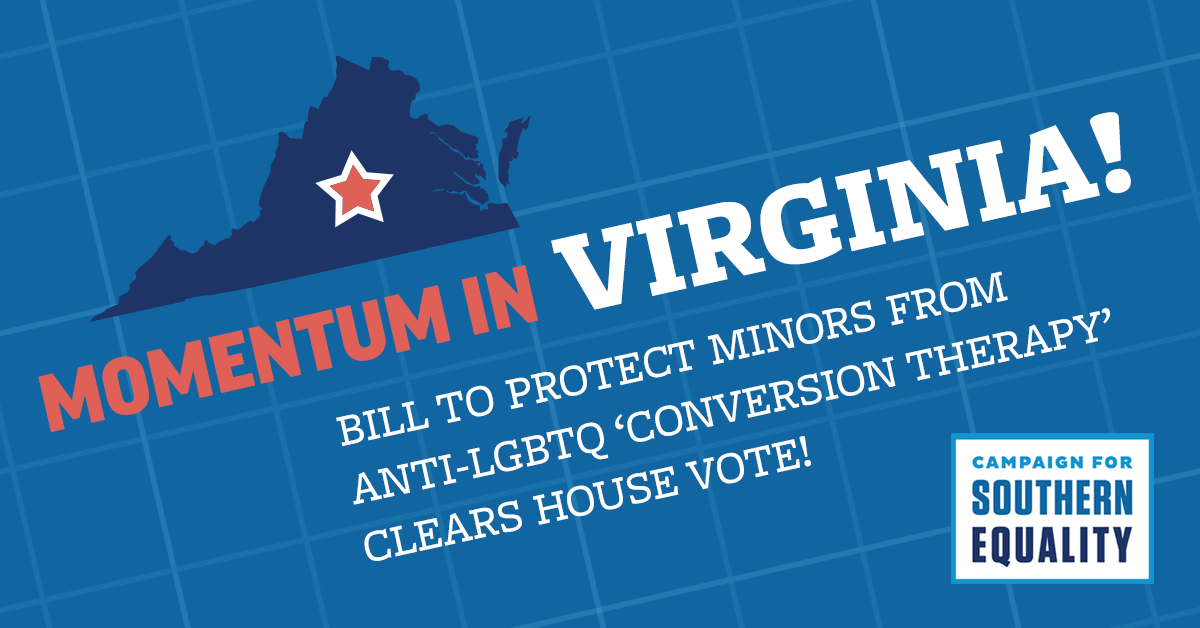 A separate bill prohibiting the practice has already passed the Virginia Senate. Now, advocates will seek to reconcile the bills and send the legislation to the Virginia Governor's desk. That means that in the coming days, Virginia could become the first state in the South to pass legislation definitively protecting LGBTQ young people from the harms of 'conversion therapy.'
The Campaign for Southern Equality applauds all of the LGBTQ advocates and survivors of 'conversion therapy' who have worked to protect minors from 'conversion therapy' in Virginia, including our partners at Equality Virginia, the Trevor Project, and Born Perfect, a program of the National Center for Lesbian Rights.
The Va House votes to ban conversion therapy to minors. For seven years, I could never get this bill out of Subcommittee and today we voted out a strong bipartisan bill! pic.twitter.com/7DNdwesPUD

— Patrick Hope (@HopeforVirginia) February 3, 2020
Building Momentum for 'Conversion Therapy' Bans Across the South
The Virginia legislation is the latest and most prominent signal of undeniable momentum to protect minors from 'conversion therapy' in Southern states. It builds on big victories and steps forward in many Southern states, including North Carolina, Kentucky, and Texas.
This year in Kentucky, Republicans and Democrats alike have come together to co-sponsor legislation prohibiting 'conversion therapy' on minors, a big step forward in the Bluegrass State. Discussions have also waged forward in Texas, Georgia, and Florida.
In August 2019 North Carolina Governor Roy Cooper signed an Executive Order directing the North Carolina Department of Health & Human Services to ensure that no taxpayer dollars are used for conversion therapy for minors, including North Carolina Medicaid and North Carolina Health Choice. This executive action mades North Carolina the first Southern state to establish a state-level policy to protect minors from the dangerous practice. The decision came on the heels of Protect Our Youth NC, a joint statewide campaign from the Campaign for Southern Equality and Equality NC to support the passage of the Mental Health Protection Act. Throughout 2019 the campaign built historic momentum for the bill's passage, including being sponsored by 35 legislators; a robust coalition of more than 65 organizations, clergy members, and mental health agencies; press attention from dozens of outlets; and engagement from hundreds working to protect youth from "conversion therapy."
Nineteen U.S. states, Puerto Rico, and the District of Columbia have banned conversion therapy through state-level legislation – most recently in Utah in January 2020. Virginia would become the 20th state to prohibit the practice.