I've been organizing for LGBTQ equality in the South for a little over 15 years now, but even that didn't quite prepare me for the latest, lowest blow from the Trump Administration. Last month – in the middle of a global pandemic, during an uprising against racial injustice and police brutality – the Administration formally rolled back healthcare nondiscrimination protections for transgender people. When I first saw the news about the Rollback Rule, I thought about the depth of inequity that trans people already face in healthcare.
I thought about all of the gut-wrenching stories I heard during our research for the Trans Health Focus Group Project, and I thought about the depth of inequity that trans people already face in healthcare, even with the federal policy protections under the Affordable Care Act. My heart was heavy with questions. What would this policy move really mean for so many of the people I know and love, and even myself? Would I still be able to access healthcare? Would this change how insurance companies cover trans folks? Why doesn't my government see us as human? 
I thought about how hard we need to fight to access one of the most basic human rights: Unfettered access to quality, affirming healthcare.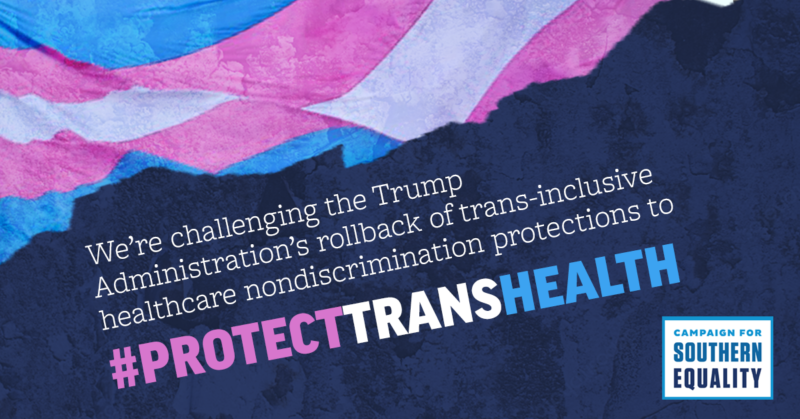 That's why the Campaign for Southern Equality is proud to be teaming up with legal and organizational partners in a new lawsuit to challenge the Trump Administration's egregious anti-transgender policy. The case was filed last night and is being led by the National Women's Law Center (NWLC), Transgender Law Center (TLC), the Transgender Legal Defense & Education Fund (TLDEF), the Center for Health Law and Policy Innovation (CHLPI) of Harvard Law School, and law firm Hogan Lovells. The Campaign for Southern Equality is representing our members alongside our co-plaintiffs Darren Lazor, The Boston Alliance of Gay, Lesbian, Bisexual and Transgender Youth (BAGLY), Callen-Lorde Community Health Center, Equality California, Fenway Health, and Transgender Emergency Fund. We are honored to be part of this effort. 
Read more about the lawsuit here, and please help spread the word! 
We're part of this case because we believe that every trans person deserves access to healthcare – full stop. Right now, that means going to the courts to protect those rights. Last month was filled with a lot of tough news, but our community won a U.S. Supreme Court case that protects LGBTQ people from employment discrimination nationwide – including in every Southern state. There are ways to win in 2020. We need to leverage everything we have to win lived and legal equality for LGBTQ people. We need to put our anger, grief, and triumphs to work – and we need to keep pushing forward for what we know is right. 
I also want to be sure to send a special message to our trans family in the South, especially as we mourn for multiple Black trans women who have been murdered in recent weeks: We want you to know that we see you. You are valid. You are enough. You are loved. You are beautiful and strong, and you inspire us every single day. Most importantly, though, we want you to know you are not alone. Our simple existence is a radical act of protest. 
The stories of so many CSE members who are transgender are at the heart of what we're fighting for in this case. Read more about the lawsuit here – and we'll keep you posted as it works its way through court. Rest assured: We'll always be there for LGBTQ Southerners working toward our vision of a South where all people can thrive, no matter who they are or who they love.