Join Equality North Carolina and Campaign for Southern Equality for a joint Town Hall about the sunset of HB142 and what it means for LGBTQ people and nondiscrimination laws in North Carolina.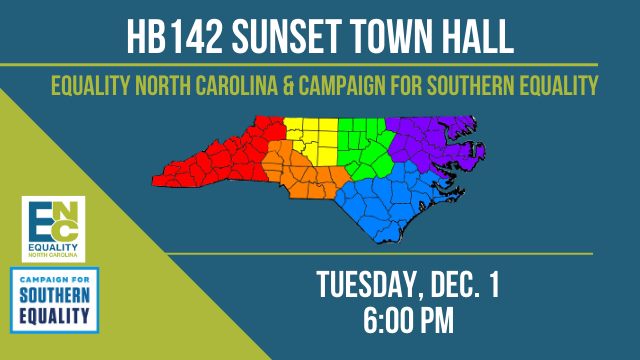 We'll be joined by a panel of experts and elected officials to discuss what's possible and not possible in the weeks ahead and how you can take action to help secure nondiscrimination protections for LGBTQ folks.
RSVP on Facebook Register on Zoom
We'll be joined by:
Kendra Johnson, ENC Executive Director
Jasmine Beach-Ferrara, CSE Executive Director
Jillian Johnson, Durham City Council
Rep. Susan Fisher, NC House 114
Ames Simmons, ENC Policy Director
Allison Scott, CSE Policy Director
In North Carolina, LGBTQ people are vulnerable to discrimination in core areas of life, including employment, housing, healthcare settings, and public spaces like restaurants and stores. That's because of a lack of comprehensive nondiscrimination protections at the state and federal level – and because of HB142, which for years prohibited cities and towns from passing their own LGBTQ-inclusive nondiscrimination ordinances.
On December 1, 2020, key provisions of HB142 expired, restoring the ability of municipalities in North Carolina to enact nondiscrimination ordinances prohibiting discrimination based on sexual orientation and gender identity. It's up to all of us to push our local leaders to pass LGBTQ protections, demand that state lawmakers fully repeal discriminatory laws and enact proactive protections, and urge our elected officials in the United States Congress to support comprehensive nondiscrimination laws.
Campaign for Southern Equality is proud to partner with Equality North Carolina on this community town hall event.