NOTE: This blog post was a collaboration between Abby Bowen and Adam Polaski of the Campaign for Southern Equality. 
Our hearts go out to the transgender youth under attack from their legislators. We recognize the harm discriminatory anti-LGBTQ bills inflict upon children – including a wave of bills targeting transgender students who simply want to play sports with their friends. We further recognize the danger posed by legislators interfering in personal medical decisions. As these cruel and unnecessary bills move in the Southeast, we will keep fighting them. We stand in solidarity with transgender youth and will continue efforts to protect them.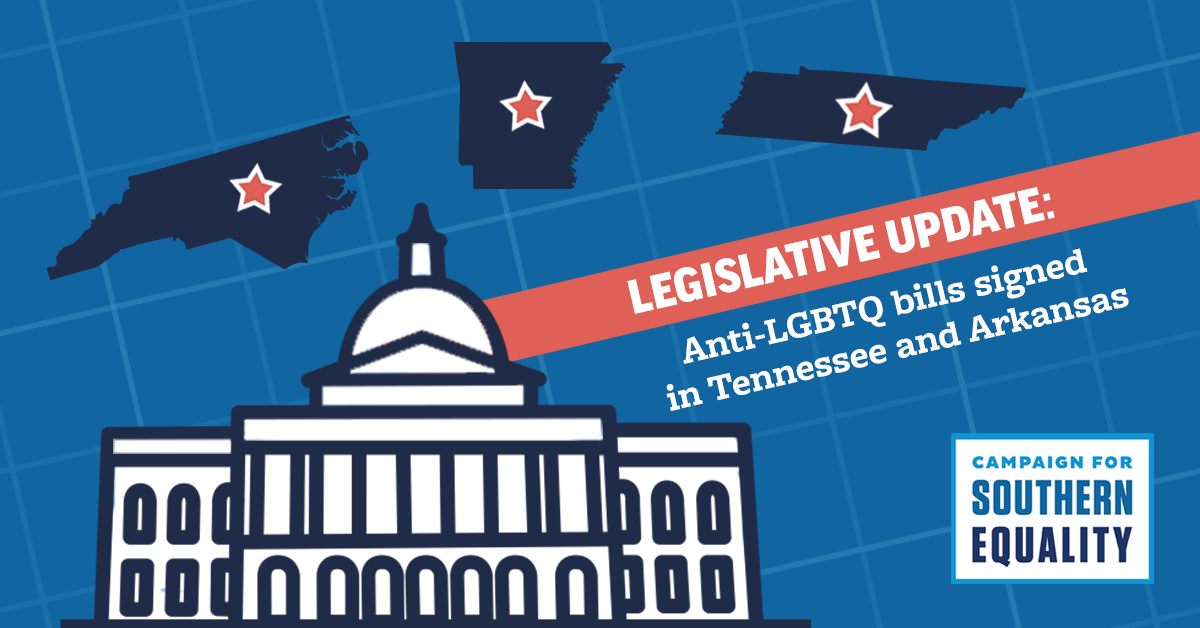 Here's a look at this week's developments:
Arkansas
Arkansas' HB1570 would prohibit medical transition for minors by punishing doctors professionally. Medical transition bans such as this one grossly interfere in the private relationship between medical experts and the patients in need of care. HB1570 passed in the House on 3/10, and passed out of the Senate Committee on 3/22. The full Senate will hold a hearing and vote on the bill on 3/29 at 1:00 pm.
In another attack against trans and gender nonconforming youth, Governor Hutchinson signed SB354, "The Fairness In Women's Sports Act," on 3/25. SB354 is one of many bills by state legislators that unfairly discriminates against transgender girls who want to play sports. 
Tennessee
Similarly to Arkansas, Tennessee's legislature is considering prohibiting trans-affirming care for minors and excluding trans girls from school sports.
Tennessee's HB578 would interfere in the private medical decisions of minors by designating the performance of medical transition treatment as a Class A misdemeanor and professional misconduct, which could result in the loss of a professional license. HB578 passed the House Criminal Justice Subcommittee on 3/17, and passed the House Criminal Justice Committee on 3/24. Next, the House Health Committee will hear and vote on the bill. 
The House voted to substitute their version of the exclusionary sports bill, HB3, with the Senate version, SB228. Both chambers have passed this bill and the governor signed the bill into law on March 26.
The Tennessee state legislature is also moving legislation that would require schools to notify parents and guardians before students begin curriculum covering sexual orientation and gender identity. This legislation would also allow parents and guardians to excuse students from learning this material. The House version of the curriculum bill, HB529, passed the Education Instruction Subcommittee on 3/23 and will be heard in the full Education Instruction Committee on 3/31. The Senate curriculum bill, SB1229, passed out of committee on 3/24 and will next be heard in the Senate.
 Lastly, HB1182, a bill that places a burden on LGBTQ-friendly businesses, has a House hearing on 3/29. HB1182 would require businesses that allow people to use restrooms according to their gender identity to place signs designating that policy at the entrances of the building and the restrooms. This bill essentially punishes businesses that are not discriminatory in their restroom policies and again stigmatizes transgender people in the state. 
North Carolina
This week legislators in North Carolina introduced HB358, yet another bill that would prohibit transgender youth from participating in student athletics. The bill directly undermines the existing policies of the North Carolina High School Athletic Association, which spent more than a year researching and developing a policy for allowing trans athletes to compete while maintaining a fair and level playing field.
Allison Scott, Director of Impact & Innovation at the Campaign for Southern Equality, said, "This anti-transgender bill is an outlier in North Carolina, and it doesn't reflect where we are as a state. We have come so far since the days of HB2, and we're better off for it: LGBTQ people feel safer, business leaders are becoming more comfortable investing here, and our communities are more inclusive and respectful. It pains me to see some lawmakers, egged on by extreme anti-transgender activists running a coordinated national attack on trans youth, trying to drag us back into an era of discrimination."
Allison continued, "The truth is that transgender youth deserve the same access as any other student to the many benefits of participating in school sports, including the physical, social, and emotional impacts. To categorically deny transgender students the freedom to play alongside their peers is at odds with lawmakers' duties to care for and protect our youth. To all of the transgender youth feeling attacked by this bill and others like it nationwide, I want to be sure you understand that you are loved, you are seen, and we are fighting with you."