This year Alabama became an overwhelming hotbed of anti-LGBTQ legislation, with multiple bills being proposed and discussed to marginalize and exclude transgender youth. Ultimately, some of the worst anti-LGBTQ bills in the country passed here, including a law criminalizing medical providers who provide trans-affirming care to trans youth, a policy restricting restroom access for trans young people, and a version of the curriculum censorship policies (known widely as "Don't Say Gay / Trans") that have proliferated in many Southern states. It can be a challenging time to be an LGBTQ+ young person in Alabama – and that's why we're so grateful for partner organizations like Prism United, which offers programming for LGBTQ youth and the people who care for them in the Mobile, AL area.
Prism United recently partnered with the Campaign for Southern Equality to distribute dozens of "Back-to-School" care packages for youth. The packages included school supply essentials, CSE's brand new Supportive Schools guide, and messages of solidarity from the CSE community. To mark the occasion, we caught up with Corey Harvard, Executive Director of Prism United, to learn more about the organization and how we can all do our part to support queer youth in Alabama and beyond.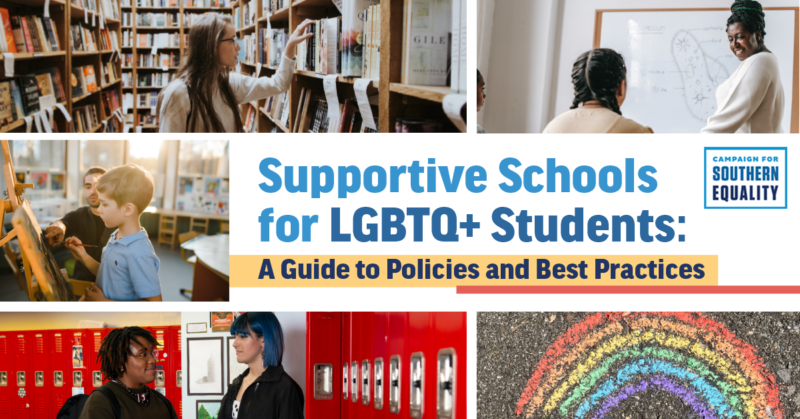 CSE: In this time of unprecedented anti-LGBTQ+ attacks, what do you think are some essential steps everyone should take to help make LGBTQ+ youth feel supported and hopeful, and how can we take a stand against the ongoing attacks on school systems throughout the South?
COREY HARVARD: That's such a good question, and it's something that we're still trying to figure out the answer to at Prism. When it comes to LGBTQ+ people and youth that we know, it's important to let them know that we're present and here for them. It might seem obvious but we're living in a time where it's easy to assume that people feel supported when they have the Internet and their own respective friends and communities. I think being proactive in asking LGBTQ+ youth and people in our lives how we can support them is a place to start. 
I think another thing that is really important is to support the folks who are doing the work. This can look like trying to find the LGBTQ+ affirming centers and programs in the places we live and asking how we can volunteer and where those programs might need support. People see horrible current events going on, such as discriminatory and oppressive legislation being passed, and feel an urgency to start new programs before checking in with the folks who already have systems in place and institutional knowledge from doing this work for many years. So I would say reach out to the people you know and the folks doing the work and support them before starting something new. We can end up making the work more difficult when we're reproducing services and creating unnecessary overlap and competition over funding sources.
CSE: In your experience, what do you find to be the most effective form(s) of resistance (both by individuals and organizations) to the currently intensifying anti-LGBTQ+ rhetoric and legislation?
CH: At Prism, we're working within institutions. I think that there's the resistance that speaks truth to power and that speaks out directly to people who are doing harmful things and promoting harmful ideas – but then there are folks who are asking how we can work within institutions to change communities. 
I think for Prism, because we have a pretty big voice and reach now, something that's important to us is centering the stories of LGBTQ+ youth. This is something that we started really putting our energy and money towards last year with the Who We Are campaign, not just in Alabama but in the Southeast. With people living in the siloes of the communities and social media algorithms, there's still a lot of ignorance about LGBTQ+ people. Ignorance leads to fear. People fear what they don't understand, and fear drives stigma. When we're thinking about what's going on right now, it's important to me not just to think about what immediately needs to happen but also about the long game. I think one way we advocate and resist the things that are happening from people in power is by reducing that ignorance. We do that by allowing people to have a more human connection to LGBTQ+ youth, and so we give them opportunities to speak and share their stories.
That's been a major part of our work and approach, tackling the question of "how do you change the cultural climate over time?" That's what we've done, and we hope it's something other people will help us continue to do by sharing those stories.  
CSE: How can LGBTQ+ folks and allies both continue to fight for our rights while also prioritizing self-care and preserving their peace?
CH: This is something I feel a lot of people are struggling with; it's one that I personally struggle with too. 
I would say the simple thing I try to do is protect my time. For me this looks like setting aside time in my calendar where I am logging out of Twitter, putting away my phone, and doing things with people I love. Because if I don't set aside that intentional time, what happens is that my brain gets lit up by the scary things happening in the world. I think a lot of people are like this, but there are good reasons why we look for those scary negative things that are going on. In doing social justice work of any kind, even though it may be good, inspirational, meaningful work, we're constantly confronting those really dark realities of wherever we are, so that makes it even more important to recognize that we have to take breaks from those heavy things. This is different from completely checking out of the work. It might look like saying that on a Saturday afternoon I will commit to not interacting with content that might wear me out. It's something I'm still trying to work on, and I'm trying to figure out how to answer this question better in my own life because there's still too much burnout happening within me personally and with people that I know.
CSE: Are there other ways that folks can get involved in the work to protect LGBTQ+ youth in Alabama? 
CH: I would just say that one thing folks could do to boost our work and help us think about that long-term goal of changing the cultural climate is to help share the stories of the Who We Are campaign. Even though we did our main push last year, I think that continues to be a really effective tool. We know from the data that Gallup put out back in 2010 about the fight for marriage equality that just knowing LGBTQ+ people was probably the biggest predictor in whether or not people were supportive of LGBTQ+ efforts. It's just knowing people and knowing their stories. So, again, helping to share those videos and helping to humanize the stories of LGBTQ+ kids certainly makes it harder to have any passionate agenda against them.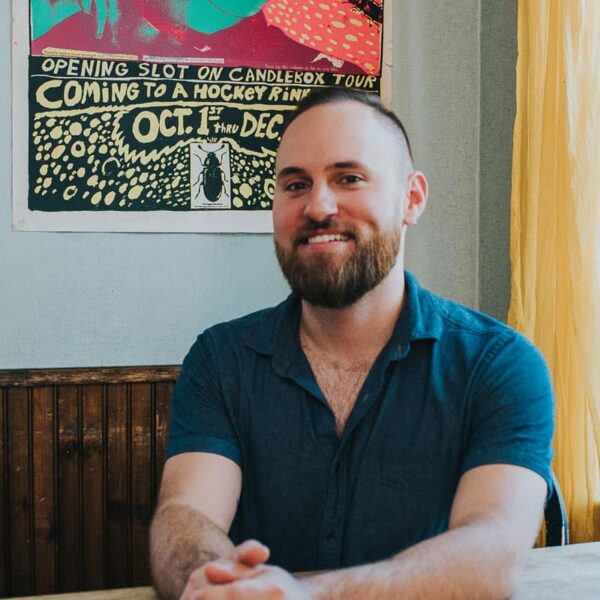 Corey Harvard