While North Carolina has so far evaded most of the staunchly anti-LGBTQ+ laws that have been passed in and plaguing states in the Deep South, queer youth are still facing many of the same problems and hardships as elsewhere. Time Out Youth provides a wide variety of services to youth in need including mental health services such as therapy and counseling, free hygiene products, nutrition assistance, and a multitude of programs intended to allow them to share and discuss their experiences with each other. They also provide free housing placement for young people over the age of 18 who are facing housing instability. 
Time Out Youth recently lent the Campaign for Southern Equality a helping hand in distributing care packages to queer youth in Charlotte and the surrounding area. These care packages contained items to help prepare youth to return to school in the fall and contained CSE's own Supportive Schools Guide, school supplies, and empathetic notes written by LGBTQ+ adults associated with CSE and across the wider community. We talked to Tuere Khanyisa from Time Out Youth to try to get a glimpse into the struggles of queer youth in Charlotte and what they are doing to alleviate them.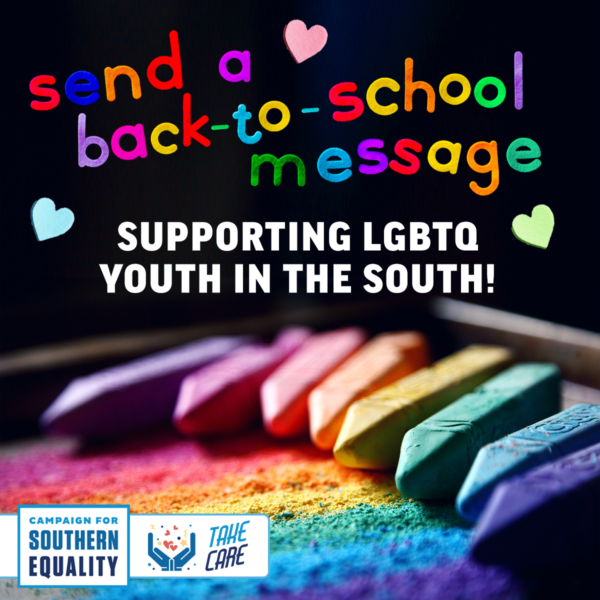 CSE: In this time of unprecedented anti-LGBTQ+ attacks, what do you think are some essential steps everyone should take to help make LGBTQ+ youth feel supported and hopeful, and how can we take a stand against the ongoing attacks on school systems throughout the South?
TUERE KHANYISA: I can try to answer this in two parts. So one way that you or anyone can support young people in the community is just by being accepting. People think that they have to know everything about pronouns and all the ins and outs of what a trans experience is – but honestly it's just being nice, being respectful, being kind, treating people with love and care, using the pronouns that they prefer, and using the name that they prefer. 
Statistically, young people who are not accepted by their families and not accepted by their communities have very high rates of suicidal ideation or even attempts at suicide. On the other hand, LGBTQ+ youth who are accepted by their family, who are called by the correct name and by the pronouns that they use, have a much lower chance of these outcomes. So really, one of the best ways to support young people is just to be a good person. Try to set a good example; when you hear people saying negative things about the LGBTQ+ community, speak up and say that it's not acceptable or tell them about your experience. There are still a lot of people who are not able to fully express themselves and not able to fully be out. Those people matter just as much, too. One of the reasons they may not feel comfortable coming out is because people in their community joke about, deride, and/or harass LGBTQ+ people in their community and they just don't know how to cope with that but a lot of times they just need one or two supportive people to say that I'll accept you no matter what. One thing that would be helpful to youth and to all people is that acceptance. It really goes a long way, and it actually costs absolutely nothing. 
Another thing to do if you have resources is to donate to groups, organizations, and individual mutual aid donations for LGBTQ+ youth and folks who might be struggling during this time. A lot of people are struggling with housing; a lot of people are struggling to find and maintain jobs and careers because of the pandemic and its long term effects. Another thing people can do would be to hire folks, share their resources whatever they may be with community members, and this all just goes back to being kind, being respectful and treating folks the way that they want to be treated. 
To address the second part of your question, one of the things that can happen in school systems is that teachers can create safe corridors for LGBTQ+ youth. If administrators could create gender neutral bathrooms for young folks and make it so it doesn't have to be that the young person always advocates for themselves because that is a very difficult position that adults assume young people know how to navigate and they don't, especially since those adults never had to navigate figuring out a bathroom, they always just had one. It's our job as older people to give respect and dignity to these young folks and support them in their discovery of self. It's really nobody's business how another person identifies and just as no one told me what pronouns I should use, we can't tell other people what pronouns they should be using. A good way to stand up in school systems is to think about our queer and trans young people, what their experience is going to be like on a daily basis, and what it is that we can do to make that experience better, more worthwhile, and more supportive. 
CSE: How can LGBTQ+ folks and allies both continue to fight for our rights while also prioritizing self-care and preserving their peace?
TK: I think that one thing LGBTQ+ people can do is just not wait for folks to respect us and respect ourselves. We can't wait for everyone to accept us, and we don't even need to be accepted by everyone. A lot of the time you just want to be who you are and express yourself so one way you can practice self care is having a meditation practice, having a spiritual practice that you do with others or by yourself, checking in with your own body, finding out what makes you feel calm and grounded and being sure to make time to do those things. A lot of people are dealing with depression and a lot of people are dealing with chronic mental illnesses; I think getting into therapy, getting into support groups, and doing things that are therapeutic for us are things that we have to do continuously. 
Self care is not an act, it's a lifestyle; it's something that you have to always do. As far as preserving your peace, you don't have to fight everybody on the Internet. I want to make that a public service announcement. Every time you see a troll you can literally just block them and keep moving on with your day. A lot of the time, folks get on the Internet in order to rile people up and make them unhappy and dissatisfied and you don't have to give them the pleasure of that. You can disengage or sometimes unplug from things that you find upsetting and then return to them when you feel more grounded and okay. It's not something that's done in a flash; it's all a marathon (being human and being alive) so don't let anyone run you into the ground. That would be my advice. 
I highly recommend meditation because to get prescriptions you have to go see a psychologist, go to therapy, and jump through a billion hoops sometimes to just get a provider but to meditate all you have to do is close your eyes. It's right there!
CSE: How are both Time Out Youth and the teachers you all work with preparing for the possibility that the NC Parents' Bill of Rights gets passed and enacted? What would the impact be of a bill like this?
TK: If it does get passed we need to immediately engage with civic involvement. We're going to have to get involved with political people and get these things repealed. You know, I never really understood why these folks put forward these bills to restrict young people's lives and things like that; why isn't the opposite of that happening? Why aren't there bills that say children deserve certain freedoms? How come there isn't a Bill of Rights for children?
I think that if we are going to fight against these oppressive bills and these horrible enactments that encroach upon the identities of minors that there needs to be just as much forceful political action to stabilize and build up the rights of young people and minors. So I think the best thing for folks to do would be to push that instead of just waiting to react to these folks who have basically no understanding of what it's like to be a kid right now. It's hard; it's really hard. So like I said, I think what we can do is figure out how to create a Bill of Rights for young folks and stick to that. 
CSE: In your experience, what do you find to be the most effective form(s) of resistance (both by individuals and organizations) to the currently intensifying anti-LGBTQ+ rhetoric and legislation?
TK: I think the most effective weapon against anti-LGBTQ+ rhetoric and legislation is knowing someone. When people know someone who is out, LGBT, and is in their family or their community, goes to their church, or goes to the same grocery store as them, for whatever reason, when folks actually put a name to a face and have aunts, uncles, or someone close to them who identifies as LGBTQ+, they are way less likely to be seduced by this idea that there's something wrong with these identities, something wrong with these people, or that these people should not be allowed here, there, or otherwise. That just is the power of visibility. 
"The most effective weapon against anti-LGBTQ+ rhetoric and legislation is knowing someone… That is just the power of visibility." –Tuere Khanyisa
I think one of the biggest resistances that we can participate in is to show ourselves, to be out if we can do so safely, but of course I know not everyone can be out safely and everyone needs to survive so I know that is very important. But those who can may make an impact just by showing up being themselves every day. In my experience being a teacher, I was out as a teacher. I wouldn't allow young people to say homophobic or transphobic things around me and just by being that stopgap, a lot of young people started to hold each other accountable and if they heard something that was messed up they would say something. Why would they say something? Is it because of me? No, but seeing an adult or someone in their community that holds the line on respect actually is an example to others so it's really important for us to be visible and it's really important for us to speak up and hold that line and it's important for people in the community to see who we are and that we're not really so different from them. 
That really takes the teeth out of this idea that there's an "agenda" – because there isn't an "agenda", there's an aunt, there's an uncle, there's a mother, and there's a father. There are people in the community that you know, that you trust, and that you've been around and it's really difficult to poison those relationships with lies once they're established so I think the most effective resistance is to be visible, take care of yourself and maybe turn off Instagram and social media sometimes. I think our presence in the community is definitely something that makes our lives evident.