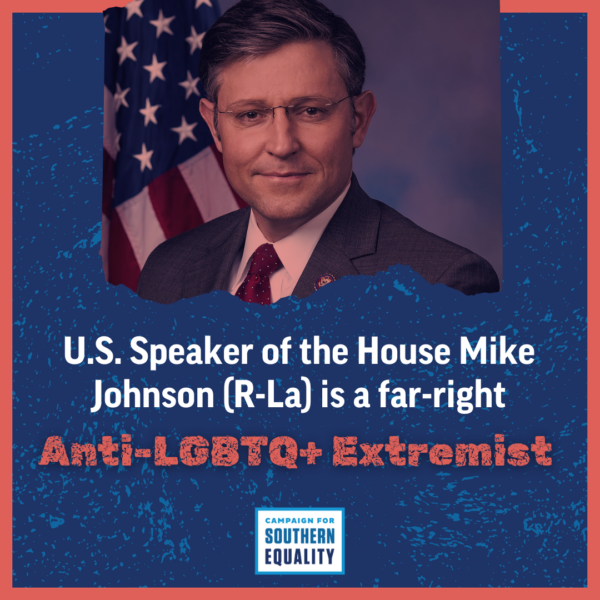 Today the Republican caucus of the House of Representatives elected Rep. Mike Johnson, Speaker of the House. A far-right Republican from Louisiana, Rep. Johnson has a long and troubling track record of attacking LGBTQ+ Americans, in addition to leading the charge to overturn the 2020 election results and pushing for a federal ban on abortion access. The Campaign for Southern Equality, which promotes LGBTQ equality across the South, expresses grave concern about and condemns his election to Speaker. 
Rep. Johnson's anti-LGBTQ+ record is extensive and stretches back decades. He has:
Worked as a Senior Legal Counsel for the Alliance Defense Fund (now known as Alliance Defending Freedom), the extreme organization that has led dozens of lawsuits designed to roll back LGBTQ+ rights. In his time there, he

said

that "if someone's trapped in a homosexual lifestyle, it's dangerous" and wrote

opinion pieces and legal briefs

opposing the freedom to marry and even endorsing the criminalization of same-sex relationships.

As a Congressmember, he

introduced

a national version of the so-called "Don't Say LGBTQ+" policies that are now in effect in Florida, Alabama, Kentucky, and North Carolina, censoring discussion of LGBTQ+ identity and attempting to erase queer youth, the LGBTQ+ parents of students, and LGBTQ+ teachers. He also

co-sponsored

a federal ban on gender-affirming care for transgender youth. He voted against the Respect for Marriage Act, which became law in 2022. 

As a state lawmaker in Louisiana he wrote

House Bill 707

, a bill that would have granted a broad "license to discriminate" for people and businesses that oppose the freedom to marry for same-sex couples.
Rev. Jasmine Beach-Ferrara, Executive Director of the Campaign for Southern Equality, said today:
"The LGBTQ+ community has faced a relentless barrage of attacks from far-right extremist lawmakers in every Southern state – and now Republicans in the House of Representatives have elected an extremist as Speaker. Johnson has made a career out of attacking the LGBTQ+ community at every turn. His positions are out of touch with the clear majority support for LGBTQ+ equality in our country. His new leadership role is just further proof of the dangerous priorities of the GOP and the critical stakes for our democracy – and for LGBTQ+ Americans – in 2024."
"We must unite around a shared vision of a future where all people can access the healthcare they need without leaving their home states, where our classrooms are not laboratories for discriminatory censorship, and where LGBTQ+ people are treated with dignity and respect."
Public opinion polls show that the vast majority of Americans, including those in the South, support LGBTQ+ equality: 71% support the freedom to marry and 80% support protecting LGBTQ+ people from discrimination. A majority of Americans oppose attempts to ban or criminalize providing gender-affirming care to transgender youth.