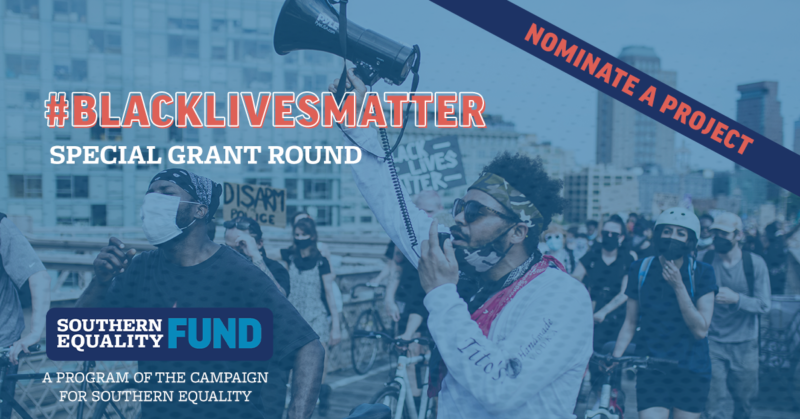 Nominate an inspiring project or organizing effort led by Black LGBTQ folks (whether it's based in art, activism, organizing, healing or something else) for a Southern Equality Fund grant of up to $500 through our #BlackLivesMatter Special Grant Round. 
---
Every June 19th, communities across the country celebrate Juneteenth, a holiday commemorating the day that the last enslaved people in the United States (in Galveston, TX) learned of their freedom when they were told about the Emancipation Proclamation (more than two years after it was delivered).
This year, the holiday has gained more widespread recognition, one of the many impacts of the historic protests against police brutality and the deepened and long overdue national reckoning about anti-Black racism and white supremacy. Many workplaces are closed in honor of Juneteenth so folks have the time to reflect on the country's abhorrent legacy of slavery, take part in an action, or remember the meaning of this important day. Our team at the Campaign for Southern Equality has joined many others in committing today as a day of service and reflection. 
It's been a jarring month for many Black folks, especially Black LGBTQ people. We've been on a roller coaster of emotions – from pain at the brutal murders of George Floyd, Tony McDade, Breonna Taylor, Riah Milton, Dominique Fells, and others; to hope at the global demands for anti-racist justice; to anger at the Trump Administration's cruel rollback of trans-inclusive healthcare protections; to optimism about U.S. Supreme Court victories for LGBTQ workers and young, undocumented immigrants. And today as we reflect for Juneteenth, we carry all of those emotions at the same time.
Our team at the Campaign for Southern Equality has been so inspired to see amazing and innovative organizing efforts led by Black LGBTQ Southerners – and now, we're excited to announce a special grant round of our Southern Equality Fund. This $6,000 #BlackLivesMatter SEF Grant Round will distribute grants of up to $500 to organizing efforts led by Black LGBTQ Southerners. 
We've got a few projects that we're looking forward to issuing grants to – and we also want to hear from you! Have you seen an inspiring project or organizing effort in your community, or are you working on something yourself that could use grant support? Whether the project that needs support is an art installation, a protest or advocacy effort, a healing project or something else, we want to hear about it!
Please click here to nominate a project for a grant – it should take less than 3 minutes. We expect the funds to go quickly and really look forward to hearing from you!