On July 5, 1852 Frederick Douglass delivered the epic speech, "What To the Slave is the 4th of July," addressing approximately 500 attendees in Rochester, NY. Douglass was a fiery orator, a writer, and an adamant abolitionist who spoke from being born as an enslaved person who eventually was emancipated by the time of this speech.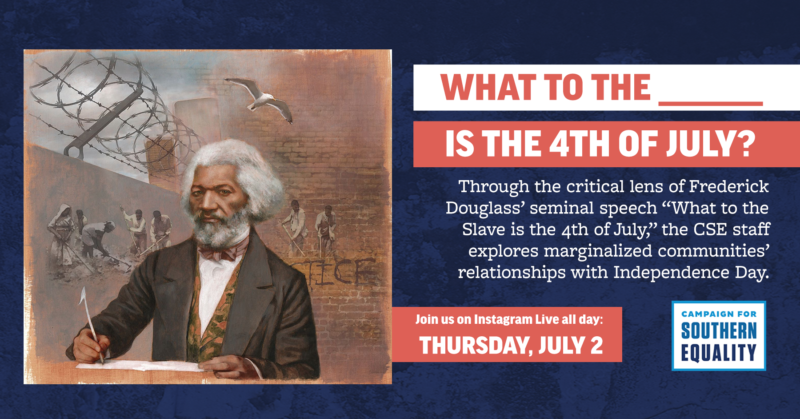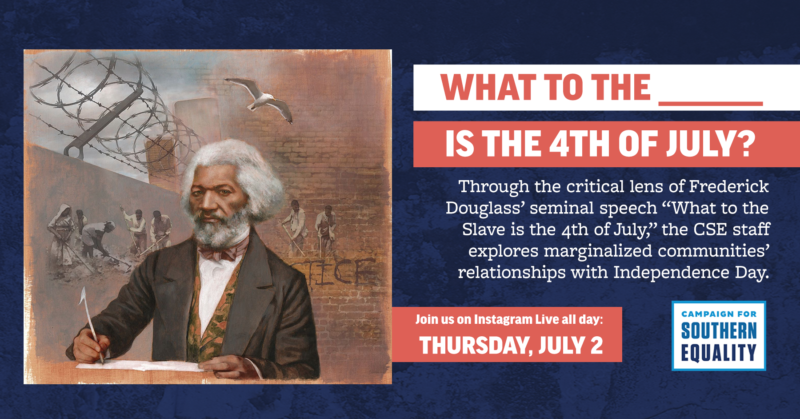 In the speech Douglass condemns the United States for being untrue to its founding principles of freedom, liberty, and justice for all. He laments, "Are the great principles of political freedom and of natural justice, embodied in that Declaration of Independence, extended to us [negroes]?"

He pushes forward his thesis: "This Fourth July [sic] is yours, not mine" [italics his]. Indeed, he says, to ask a Black person to celebrate the white man's freedom from oppression and tyranny is "inhuman mockery and sacrilegious irony."

In addition to Black people being enslaved and considered property in 1852, Indigenous people were also being subjected to systematic genocide, removed from their tribal lands, and Native children were being forced into inhumane boarding schools. To add, women could not vote or own property. People with disabilities were treated less than human and considered to be burdens to their families. Same-sex romantic relationships and behaviors were illegal and completely ostracized. Then, as now in 2020, only the elite white, wealthy, heterosexual, cisgender, able-bodied men were granted these so-called inalienable rights of the 1776 Constitution.

So why do so many of us still excitedly celebrate Independence Day? Every year I am appalled at how many people casually ask me, "What are you doing for the Fourth?" Perhaps it's just a thoughtless tradition that we engage in without a critical eye. Maybe we just want an excuse to bar-b-que with family and friends and watch fireworks. Whatever the reason, our team at Campaign for Southern Equality is exploring this question this year. During this unique time of living in both a global health pandemic and a global racial pandemic in the fight for Black lives, we want to be critical with this question and with this holiday.

On Thursday, July 2, CSE team members interviewed community members for short conversational interviews with our supporters on the question of "What to the _______ Is the Fourth of July?" filling in the blank with, for example, "Black person," or "Indigenous person," or "lesbian," or the "person with a disability," etc.
Here are the interviews!
Holiday Simmons with Laila Nur
Laila Nur (@officiallailanur) is a Black, queer, non-binary Muslim who is a community organizer, parent, singer/songwriter, and front person for the queer Muslim punk band The Muslims
Ivy Hill with Jonatan Guerrero Ramirez
View this post on Instagram
Al Murray and Adrian Parra
View this post on Instagram
Holiday Simmons with K. Tahji Claybern
K. Tahji Claybern (@quirkyblackgyal) is a Black transwoman, reiki practicioner, and social worker
Liz Williams and Spike Thompson
Wynston Sanders with Loan Tran
View this post on Instagram
Liz Williams and Gabbi Santander