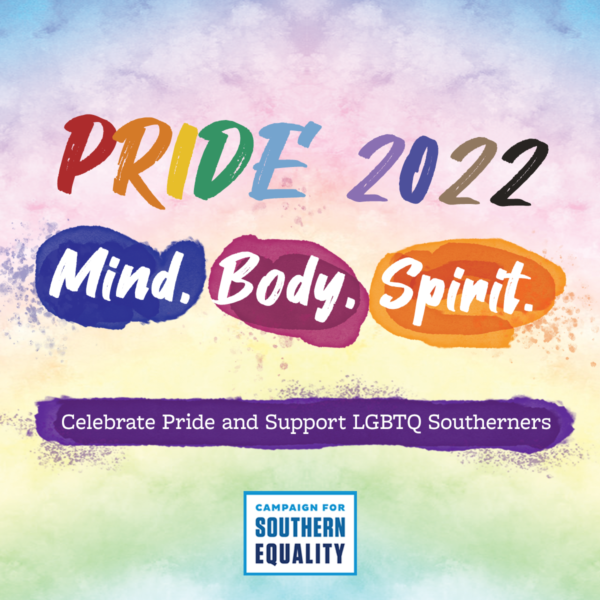 This Pride Month, the Campaign for Southern Equality made a commitment to showing up with our full selves – Mind, Body, and Spirit. 
This commitment is more critical than ever in the face of the U.S. Supreme Court ruling overturning Roe v. Wade and putting a target on many other hard-won legal victories, including the right to contraception, the freedom to marry the person you love, and freedom from laws criminalizing LGBTQ+ identity. 
My heart has been so heavy this week as I watch people struggle to access abortion care and watch clinics that provide these critical services close their doors. 
But here are a few things that have kept me going:
So many people are speaking out about their support for abortion access and sharing concrete ways to help, like donating to an abortion fund or a patient support organization – such as the

Carolina Abortion Fund

– or directing people to resources like INeedAnA.org. 

Today, on Give OUT Day, I'm seeing messages from an incredible movement of LGBTQ+ organizations doing innovative, exciting work – including many groups across the South.

Donors are writing in to the Campaign for Southern Equality to celebrate the last day of Pride Month and contribute to

our Give OUT Day campaign

. We're hearing gratitude for programs like our Emergency Grant Fund for transgender youth impacted by heart-breaking anti-trans policies and our Community Health Program, which trains healthcare providers on best practices for LGBTQ-affirming care. 
I know that you're getting a lot of requests right now, and I appreciate you being a part of the movement to win dignity and equality for LGBTQ+ people across the South. 
If you can't give right now, I totally understand. But if it makes sense for you, please consider pitching in a donation today, on Give OUT Day, to the Campaign for Southern Equality. You can learn more and donate here.