The Front Porch: Virtual Gatherings for the #LGBTQSouth is an initiative launched by the Campaign for Southern Equality in March 2020 to support LGBTQ Southerners through the unique challenges of the COVID-19 pandemic. Virtual programming includes community support groups, skill-sharing and skill-building workshops, and presentations from practitioners in their fields. Selected webinars were recorded and are available to watch here.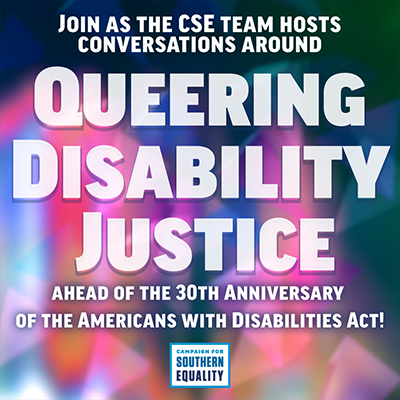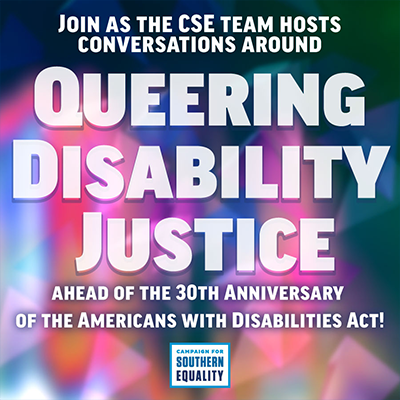 Queering Disability Justice: 30 Years of the Americans with Disabilities Act
5 Video Interviews
Sunday, July 26, 2020 marked the 30th anniversary of the Americans with Disabilities Act (ADA), and July is also Disability Pride Month. At the Campaign for Southern Equality, we took this landmark anniversary as an opportunity to acknowledge the many LGBTQ Southerners who also live with and are impacted by disability. Watch interviews where folks share their stories: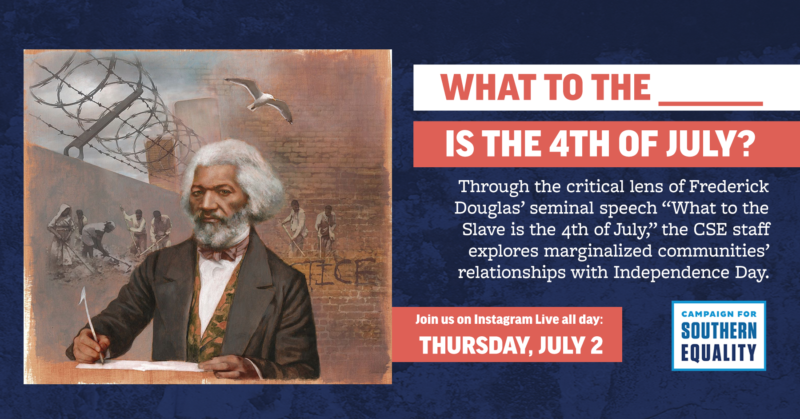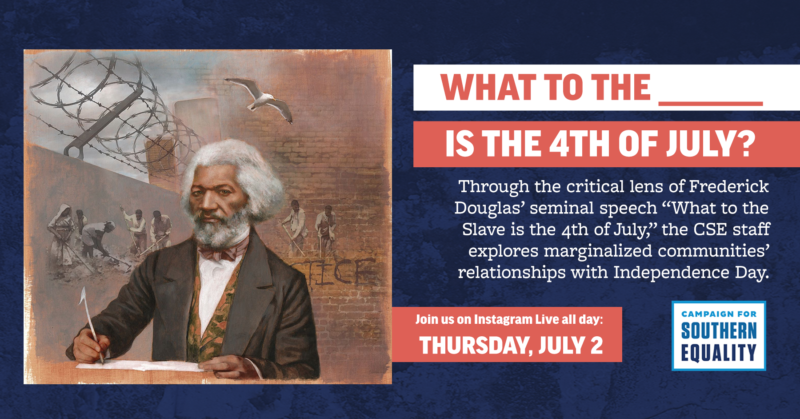 What to the _________ Is the Fourth of July?
6 Video Interviews
On Thursday, July 2, Campaign for Southern Equality team members interviewed community members for short conversational interviews with community members on the question of "What to the _______ Is the Fourth of July?" filling in the blank with, for example, "Black person," or "Indigenous person," or "lesbian," or the "person with a disability," etc. Watch the interviews or view all here.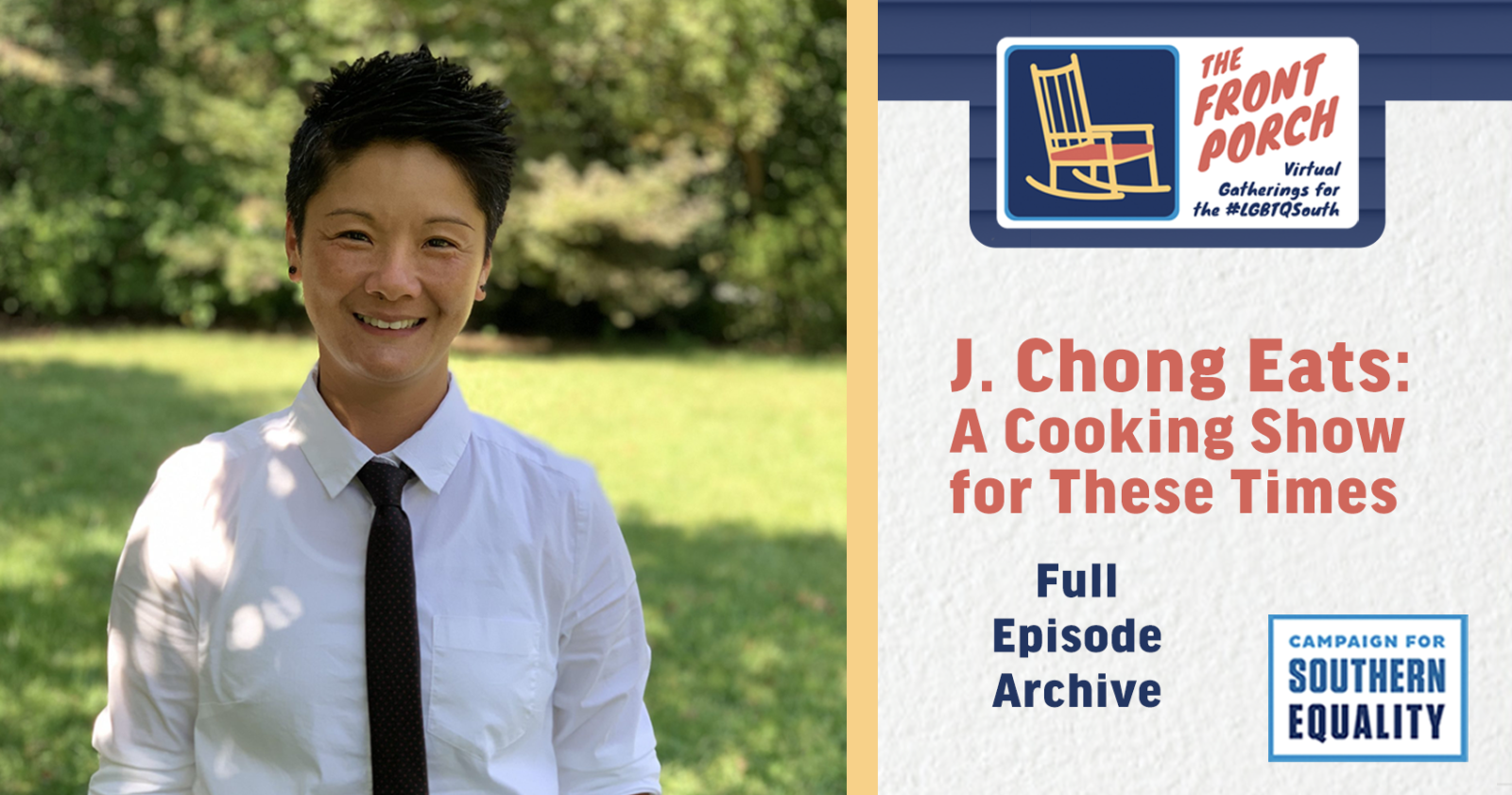 J. Chong Eats: A Cooking Show for These Times
4 Episodes and a Bonus
Every other Friday in the months of quarantine resulting from the COVID-19 pandemic, professional chef J. Chong, a CSE board member, has presented an accessible and fun take on healthy eating and easy recipes you can make at home. J. prepares a meal in real time, answers your questions, and teaches you strategies for staying fed and healthy in this era of social distancing.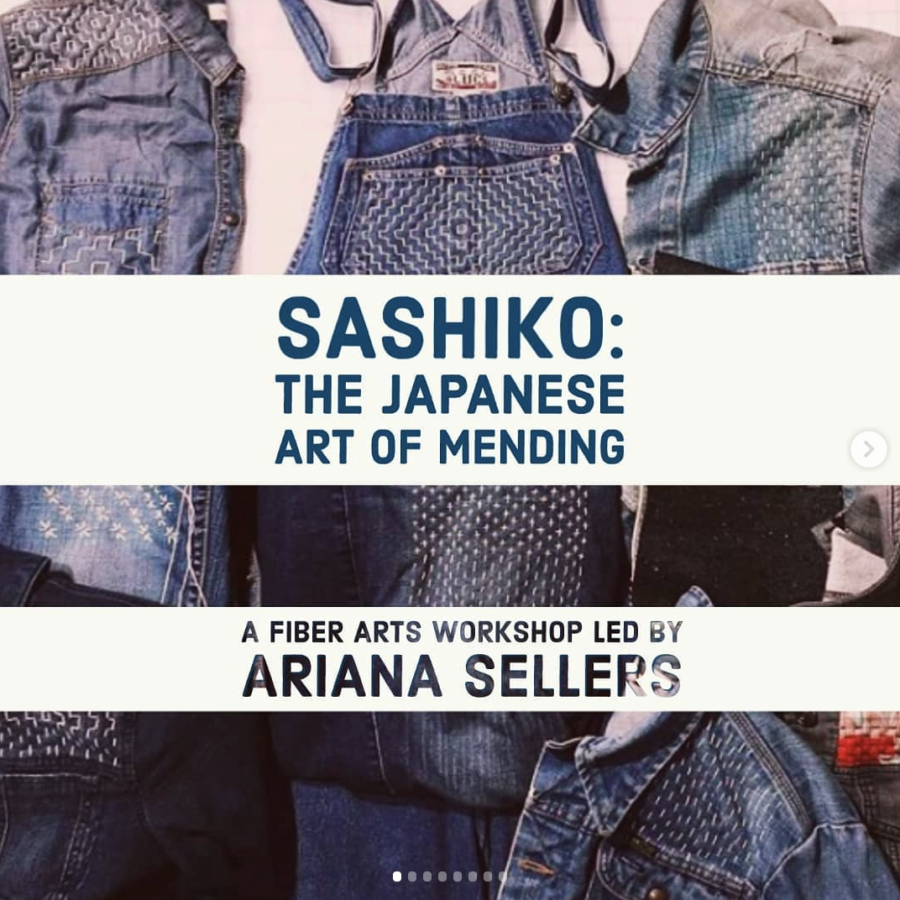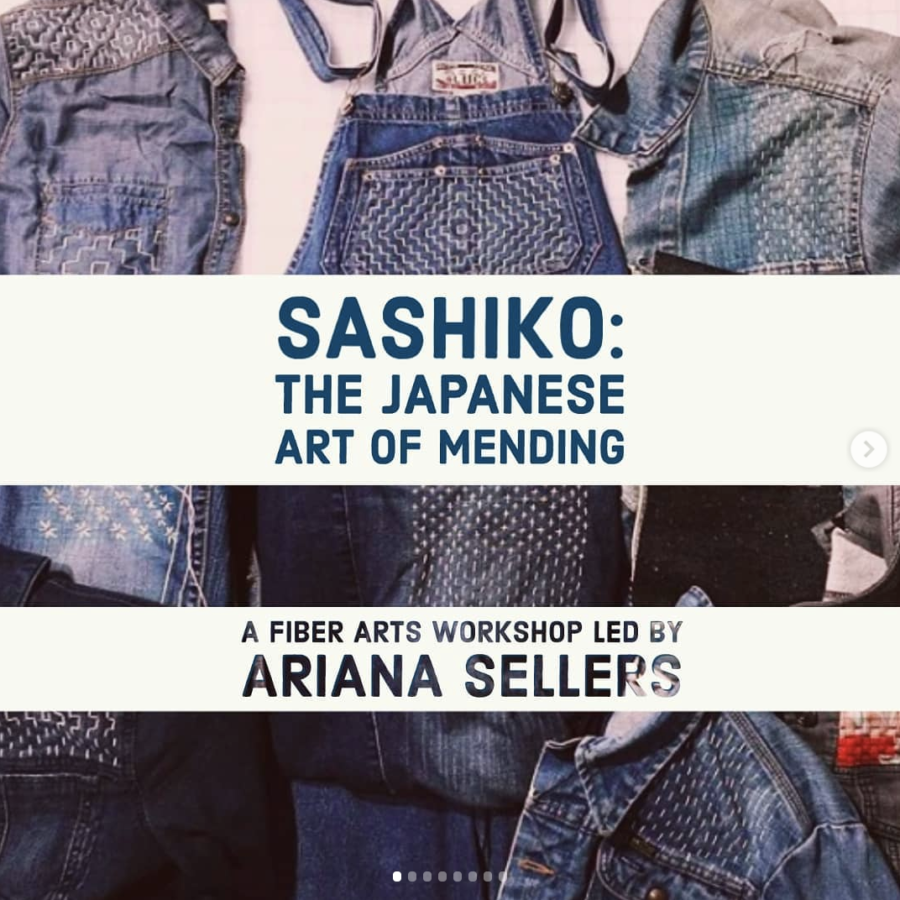 Queer Artist Meet-Up: Sashiko, The Japanese Art of Mending
Held April 28, 2020
In this Queer Artist Meet-Up skill-share, part of Southern Equality Studios, guest host Ariana Sellers taught participants a home craft – visible mending and functional embroidery using the Sashiko technique. Check it out!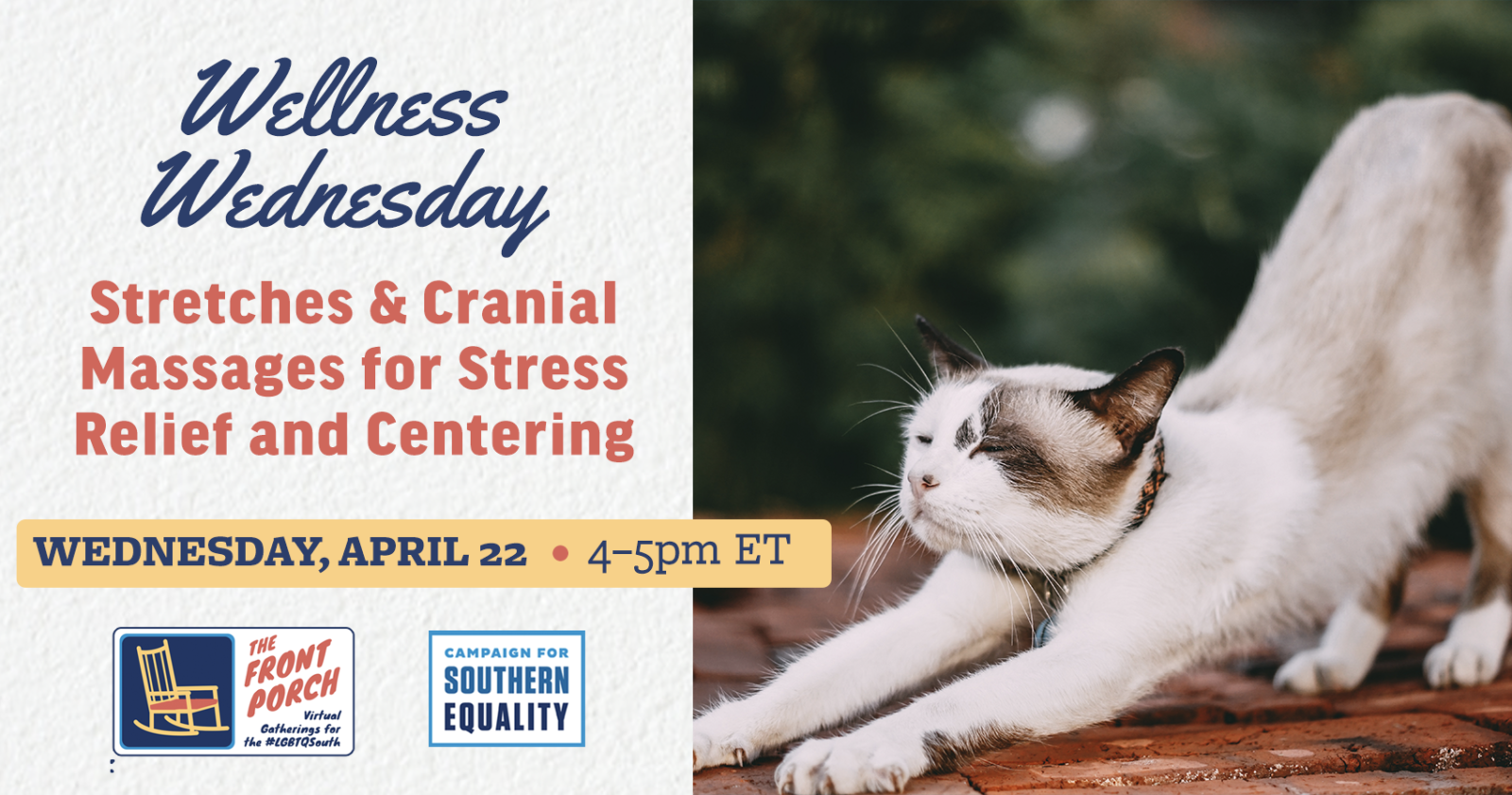 Stretches and Cranial Massage for Stress Relief & Centering
Held April 22, 2020
Come participate in light stretches and cranial massages. CSE's Director of Healing and Resilience Holiday Simmons will teach introductory cranial massages that can be done on yourself or someone else, including children! These practices have been known to calm the nervous system, relieve tension and headaches, and support vitality.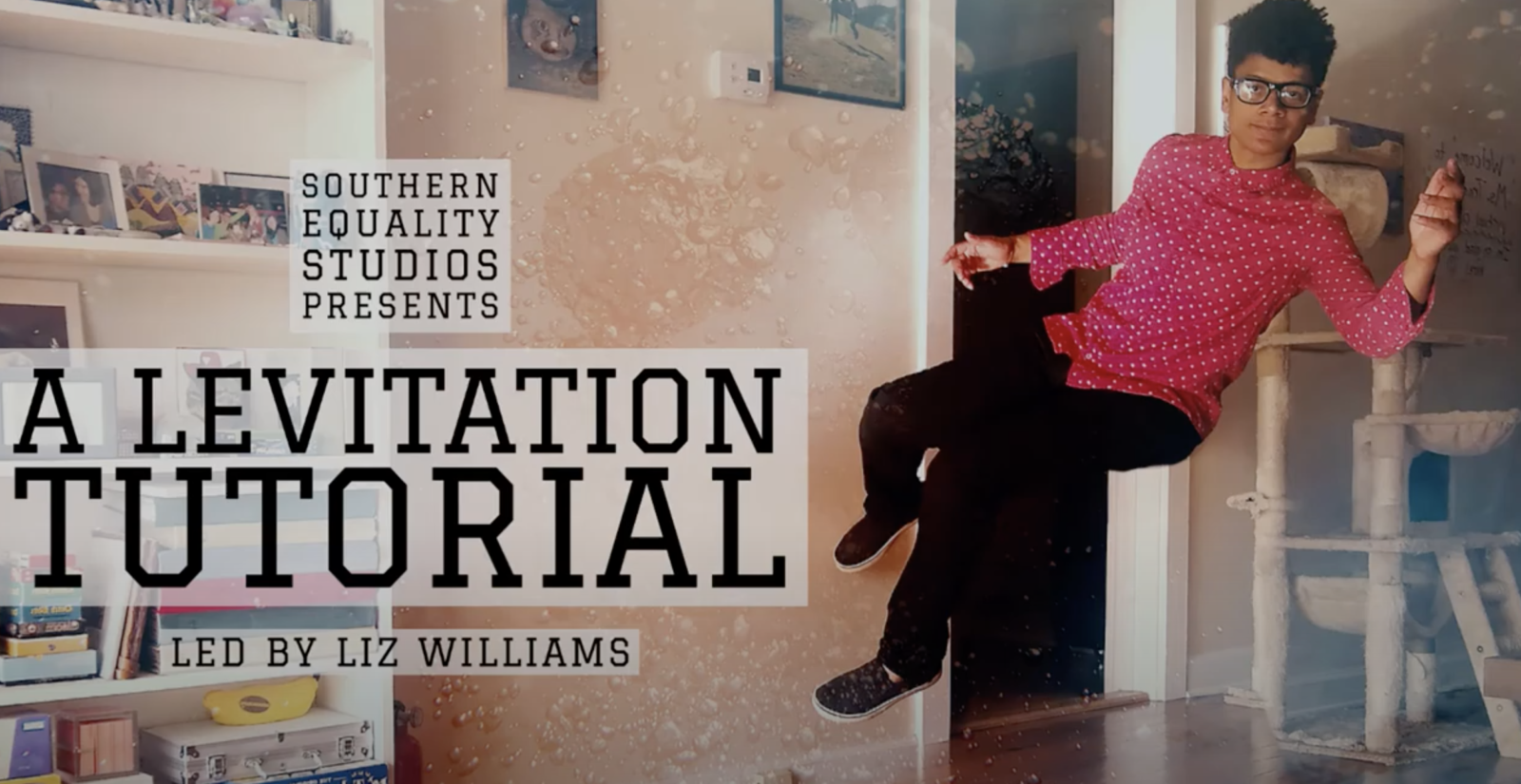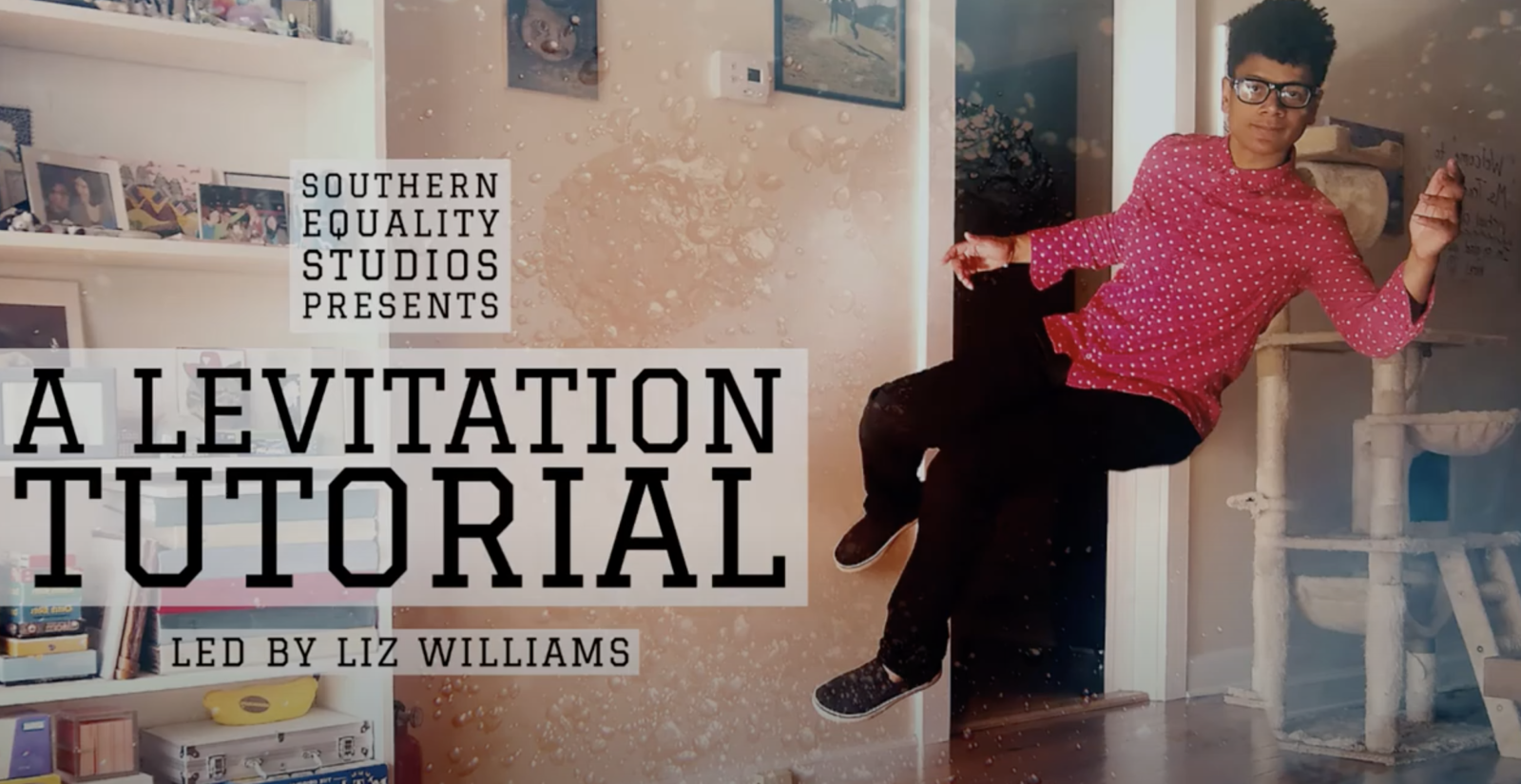 Queer Artist Meet-Up: A Levitation Tutorial
Held April 21, 2020
In this Queer Artist Meet-Up skill-share, part of Southern Equality Studios, we'll learn to fly with Liz! It's okay if you're afraid of heights – this is a Photoshop skill share. This space will be facilitated by Al Murray, CSE's Director of Engagement and Organizational Development, and Liz Williams, CSE's Artist in Residence.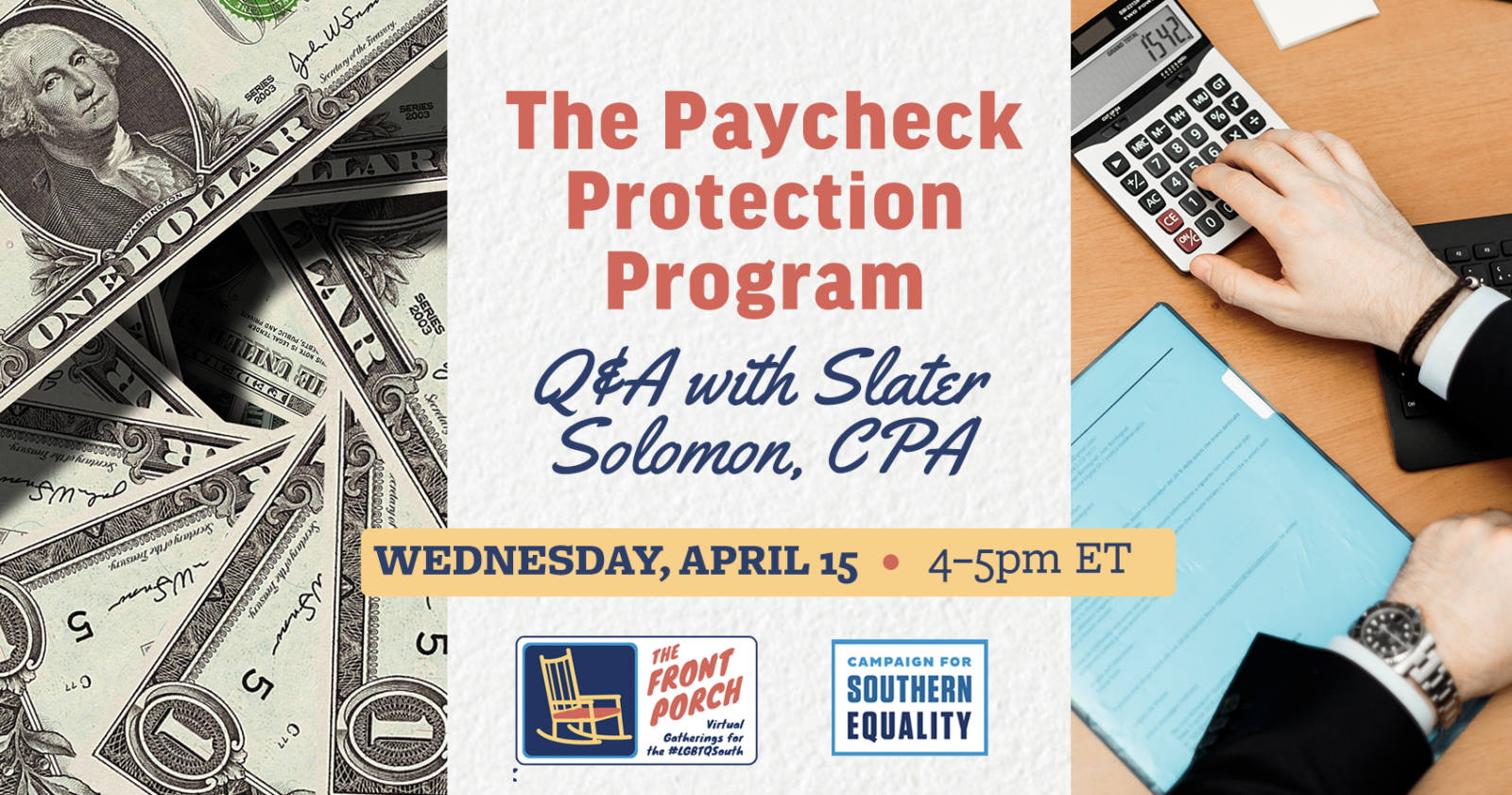 Paycheck Protection Program: A Q&A with Slater Solomon, CPA
Held April 15, 2020
Do you run a nonprofit? A small business? Are you self-employed? The Paycheck Protection Program of the CARES Act is set up to help you keep yourself and your employees on payroll during the pandemic. Learn about this funding opportunity and tips for an effective application. Slater will give an overview of the program and take your questions.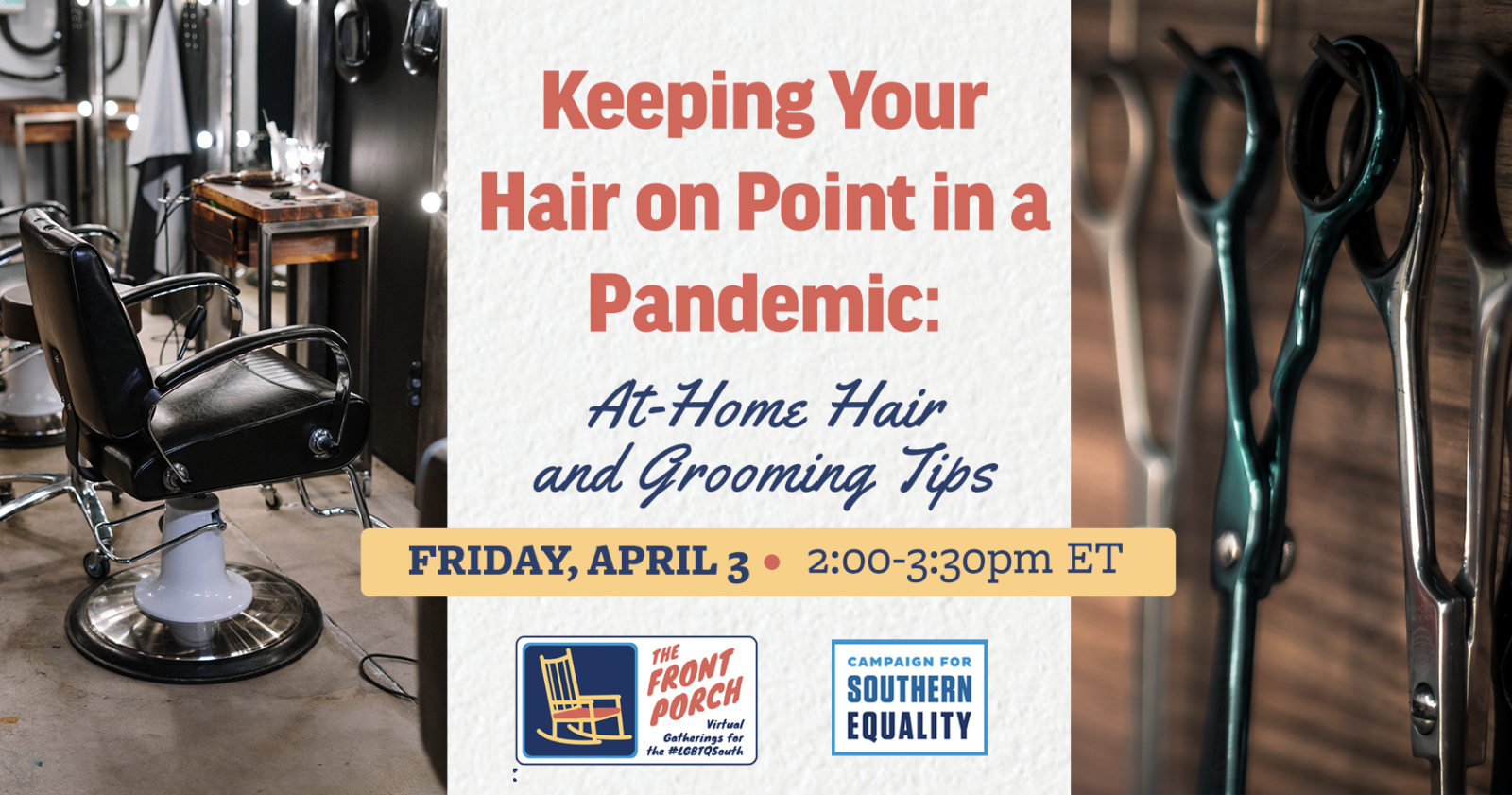 Keeping Your Hair on Point in a Pandemic: At-Home Hair and Grooming Tips
Held April 3, 2020
Join professional stylist Crain Jackson for an at-home barbering/haircut demonstration and a Q&A session on personal grooming and aesthetics! Crain has experience barbering all hair types and is offers suggestions based on masc, femme and nonbinary presentations. In this webinar they share tips about everything from cleaning up your own neckline to DIY hair and skin care in this era of social distancing.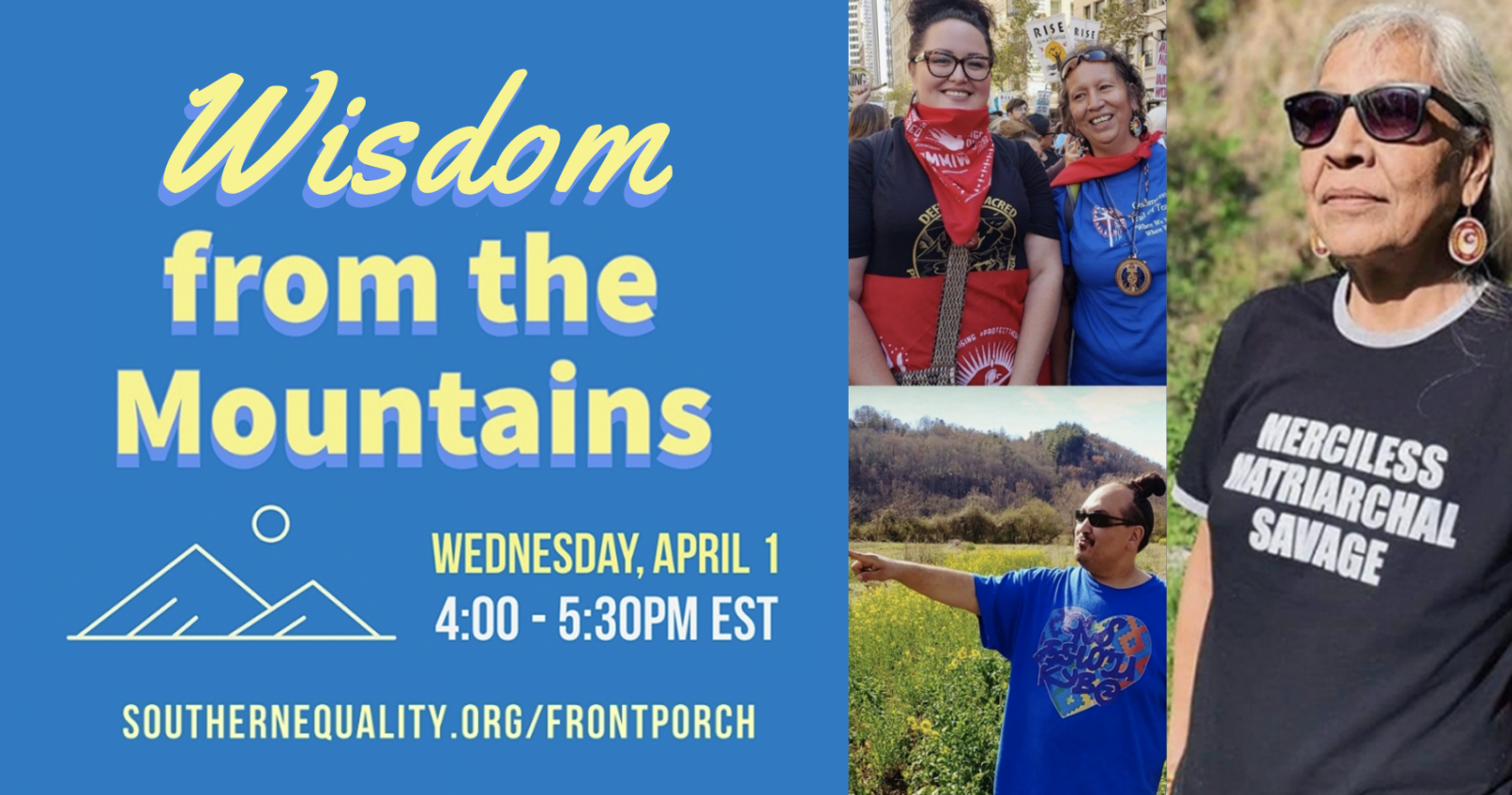 Indigenous Wisdom from the Mountains
Held April 1, 2020
These are shifting times. COVID-19 continues to take and impact lives everyday. How are people who are Indigenous, rural, and Southern faring? CSE's Director of Healing and Resilience Holiday Simmons moderated a panel featuring members of the Eastern Band of Cherokee Indians from the Qualla Boundary in Cherokee, North Carolina. The panelists shared their thoughts, experiences, and practices on social, emotional, and resource management during this Coronavirus global pandemic.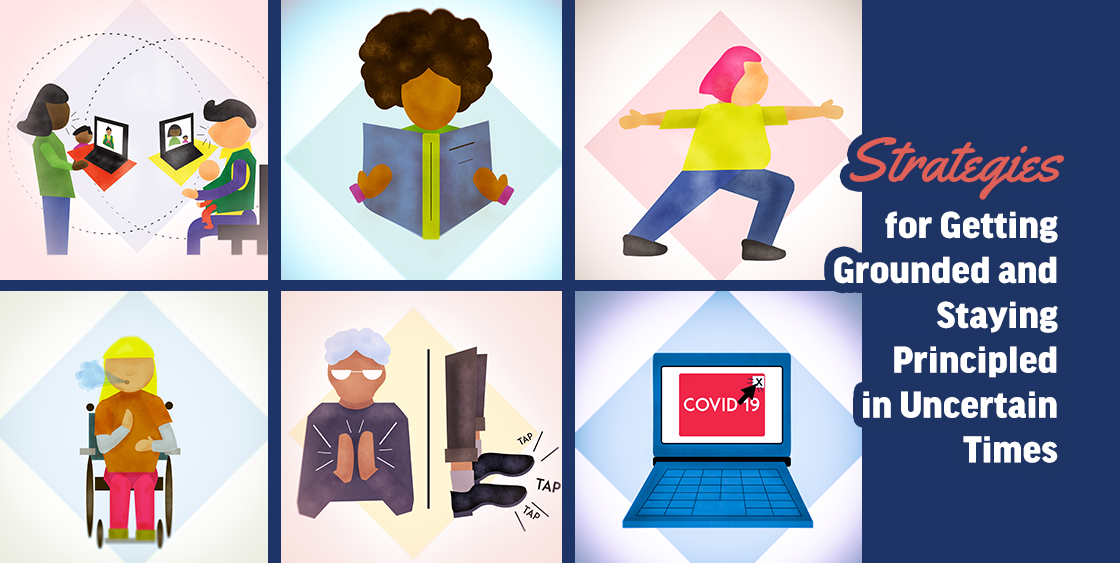 Strategies for Getting Grounded and Staying Principled in Uncertain Times
Held March 25, 2020
Isolation can be hard and stillness even more difficult. There is a lot of information out there about COVID-19 – much of it helpful, some of it scary, some of it is anxiety-provoking or overwhelming. While we all have a responsibility to follow protocols for keeping ourselves, our families and our communities healthy, we are more than just our physical bodies. In the face of so much uncertainty, CSE's Director of Healing and Resilience, Holiday Simmons, shares tips and strategies for reducing panic and stagnation, and increasing compassion and community.
View Full Archive of Grassroots Training Webinars
All Campaign for Southern Equality grassroots training webinars have been recorded and can be accessed here, along with any resources and presentation materials shared during the webinar.